Looking to learn more about Hotpoint refrigerator models? You came to the right place! If you're in the process of researching a new refrigerator, there are many brands to consider. Hotpoint is a good place to look if you want an inexpensive, no-frills model. This trusted manufacturer of quality home appliances is now a subsidiary of GE Appliances, which is owned by Chinese manufacturer Haier. Hotpoint has a long-standing reputation for low-cost, quality products that remains intact under their new ownership.
Hotpoint is not a heavily advertised brand, so Hotpoint refrigerator reviews can be a little hard to find. We provide info on their full model lineup of refrigerators in this article.
If you are interested in a Hotpoint refrigerator, one of the first things you should know is that they only come in three basic sizes: 14.6 cubic feet, 15.6 cubic feet, and 17.6. cubic feet. They are all top freezer refrigerator models, so you're out of luck if you're looking for a side by side or bottom freezer model (check out our Amana bottom freezer refrigerator reviews for a value option in the bottom freezer category). All of the sizes share the same basic features with only a few differences beyond their capacities.They all have pocket handles for a smooth look that blends in with your kitchen.

1. The Hotpoint HPE16BTNRWW - 15.6 cu ft - $659
The Hotpoint HPE16BTNRWW is a 15.6 cubic foot top freezer refrigerator with recessed handles available in white or black - unfortunately they are no longer available in bisque, a rare color option. This is a good basic model for a small kitchen and is great for apartment landlords looking for inexpensive but reliable refrigerators. It's Energy Star rated, although you can choose the virtually identical model HPS16BTNLWW at a slightly lower price point of $639.
The fresh food section has two adjustable wire shelves and two clear bins (non-humidity-controlled), plus two large fixed door shelves and a dairy center. The frost free freezer section features two door bins and a wire shelf. Temperature controls are up-front for easy access and an optional ice maker kit is available. The doors are reversible.
This refrigerator has a small footprint that makes it ideal for apartments and small kitchens. It was ranked #1 in Quality and Dependability in an independent study of property maintenance personnel conducted by the Stevenson Company in 2016.
Dimensions:
Width: 28"

Depth: 30.5"

Height: 61.75"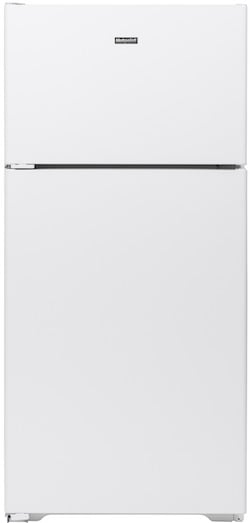 2. The Hotpoint HPS18BTNRWW - 17.6 cu ft - $659
If you are looking for larger cubic footage, Hotpoint also makes a 17.6 cubic foot model. It is virtually identical to the 14.6 cubic models with a larger interior capacity and exterior dimensions. You'll find that the 17.6 cubic foot model is five inches taller. It also offers an additional third storage rack on the inside of the fresh food door.
This larger Hotpoint refrigerator model is available in black or white for around $659. It still takes up a fraction of the space of typical side by side or French door models, so it's a great option for space-limited homes.
Dimensions:
Width: 28"

Depth: 30.5"

Height: 67.38"
Hotpoint is a quality brand name selling value-priced appliances, and has been around for decades. Don't overlook these Hotpoint refrigerator models when you are out shopping. If you want to learn more about the entire line of Hotpoint appliances, click here to read all of our Hotpoint appliance reviews! Other value brands include Amana (owned by Whirlpool) and the Frigidaire Value line.
We hope you enjoyed this review. Please leave us a comment below. We'd love to hear from you!
Editor's Note: This blog was originally written in November of 2017 and has been completely revamped and updated for accuracy as of the publication date noted above.