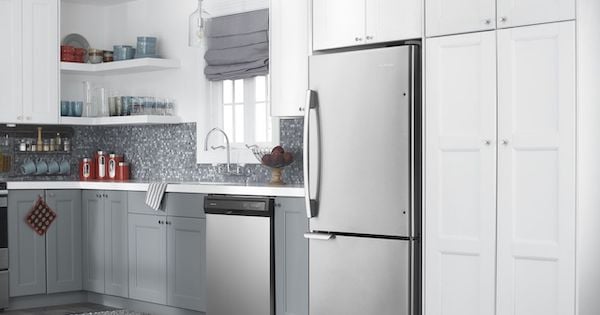 As an alternative to the ever-popular French door refrigerator models that dominate appliance showrooms, some consumers might want to consider two door bottom freezer models. Before French door models hit the market, these models were the popular choice for anyone looking for a bottom freezer. They can still be a great option today!
If you're looking for a tried and true bottom freezer at an affordable price, don't overlook Amana. Amana is a division of Whirlpool and has been manufacturing appliances in the US for over 80 years. They are known for low prices and quality products. We've compiled these Amana bottom freezer refrigerator reviews to help you learn about what they have to offer and decide it if one is right for you.
Amana's product line is always straightforward and offers great choices for consumers. In bottom freezers, Amana offers 18 and 21 cubic foot sizes and black, white, or stainless steel color options. Within the smaller 18 cubic foot format, there are two different models: one with a swing-out freezer door and one with a pull-out freezer drawer. Let's take a closer look at the models, sizes and prices to see what suits your needs.
1. The Amana ABB1921BRM - 18 cu ft - Swing-Out Freezer Door - $1,199
First up in our Amana bottom freezer refrigerator reviews is the Amana ABB1921BRM 18 cubic foot model with bottom freezer door. At this price point the freezer door is offered as a traditional swinging door like the fresh food door, rather than a pull out freezer drawer. This model is a great entry-level option priced at just $1,199 in stainless steel or at $1,099 in black or white.
This is a good model for customers who don't require extra large capacity and who have limited width available for installation. At just 30" wide it can fit easily in most kitchens and will take up about the same amount of space as a top freezer model. If you can't handle the 36" widths usually found on side by side models, this Amana bottom freezer refrigerator might be perfect for your needs.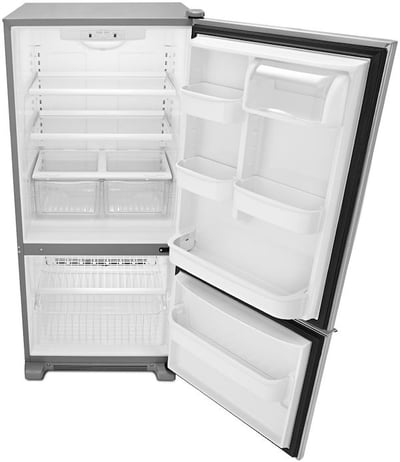 Inside, you'll find two adjustable tempered glass spill-proof shelves, two humidity-controlled crisper bins, three adjustable half-width door bins, a dairy center, and a full-width gallon door storage bin. In the freezer section you'll find a wire shelf and a slide-out wire freezer basket with a divider. An optional ice maker kit is available, model IC13B. The doors are reversible, and simple electronic controls let you adjust the refrigerator and freezer temperatures.
Dimensions:
Width: 29.625"

Depth: 33.375"

Height: 66.94"
Click here to read over 340 real customer reviews of this product!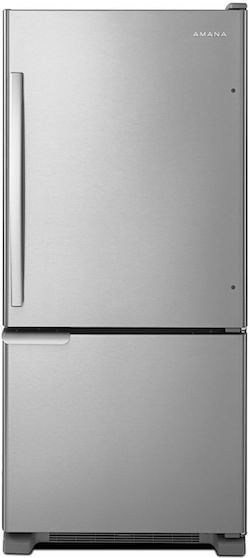 2. The Amana ABB1924BRM - 18 cu ft - Pull-Out Freezer Drawer - $1,499
If your budget has more wiggle room and you'd like a drawer style freezer that's easier to access, you should check out the step-up model, the Amana ABB1924BRM. This model is also 18 cubic feet and has the same exterior dimensions but is priced a little higher at $1,499 in stainless steel, or $1,399 in black or white.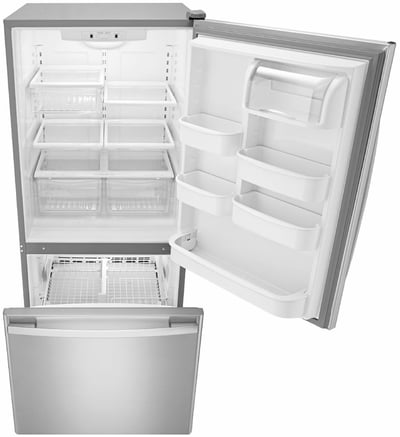 It comes with all of the features of the previous model, plus a half-width deli drawer in the fresh food compartment and four half-width adjustable shelves rather than two full-width adjustable shelves. They also squeeze in an extra door bin! But the big difference is in the freezer: rather than a side-swing door, you get the EasyFreezer pull-out drawer. Inside the freezer you'll find dual-level storage in glide-out wire baskets with dividers to help keep things organized.
Dimensions:
Width: 29.625"

Depth: 33.375"

Height: 66.94"
Click here to read over 185 real customer reviews of this product!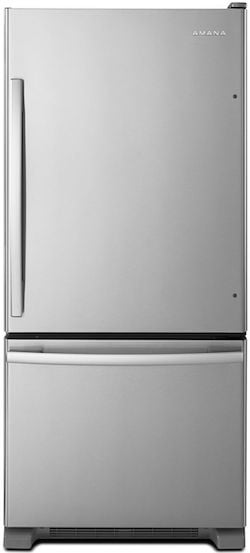 3. The Amana ABB2224BRM - 22 cu ft - 33" Wide with Freezer Drawer - $1,499
Last up in our Amana bottom freezer reviews is their flagship model, the Amana ABB2224BRM, featuring 22 cubic feet of capacity. This model is designed to fit in a standard 33" in opening and comes in stainless steel at $1,499 and in black or white at $1,399. This model features the EazyFreezer pull out drawer, along with the same fresh food storage features as the 18 cubic foot freezer drawer model, including a deli drawer, half-width adjustable shelving, and plenty of door storage.
If you can fit a larger refrigerator, you might as well go for this model since the #2 model is the same price!
Dimensions:
Width: 32.625"

Depth: 33.375"

Height: 69.94"
Click here to read over 175 real customer reviews of this product!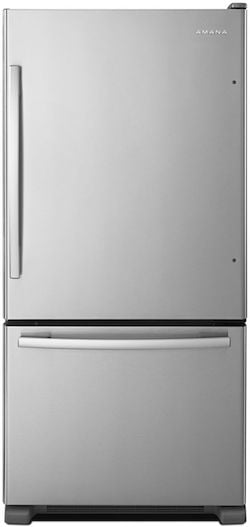 We hope this helped you decide whether an Amana bottom freezer model is right for your needs. Amana offers great prices, and the exterior styling of these models isn't half-bad, either! Please leave us a comment below. We'd love to hear from you!
Editor's Note: This blog was originally written in August of 2017 and has been completely revamped and updated for accuracy as of the publication date noted above.