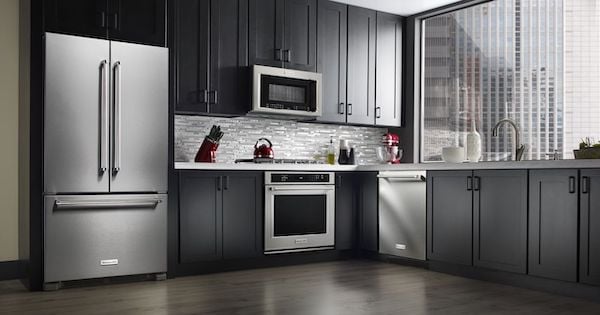 Counter depth refrigerators are an easy way to take the style of your kitchen to the next level. They're typically 36" wide and about 70" tall with a total depth of 28-31" including the handles, so they won't stick out past your countertops. In many remodeled kitchens, center islands are installed which carry a dishwasher, slide-in range or wall oven and cook top, while leaving the refrigerator on the out-skirting walls. With a full-depth refrigerator, you will find that there is not enough elbow room to walk between the island and refrigerator. This is a perfect opportunity for a counter depth model. It doesn't stick out, giving you more room in your kitchen and it gives you that clean modern finished look. You can read more about these models in our article on counter depth refrigerators.
Frigidaire's Professional line and KitchenAid both offer high-end products with a commercial feel for the discerning consumer. Frigidaire Professional is Frigidaire's high-end line with commercial styling and premium features. KitchenAid, now owned by parent company Whirlpool, offers a range of high-end appliances that are a joy to use.
Let's take a look at two of the best-selling counter-depth French door refrigerators from top brands Frigidaire and KitchenAid!
1. The Frigidaire Professional PRMC2285AF - 21.4 cu ft - $3,899
The Frigidaire Professional PRMC2285AF is a 21.4 cubic foot counter depth refrigerator with a professional design inside and out. It's available in smudge-proof stainless steel starting at $3,899. The towel bar style handles add a commercial feel, and inside you'll find adjustable shelving, an expandable door bin, a SnackZone, and a flip-up shelf for taller food items. This model from Frigidaire Professional makes it easier and more flexible as they include a Custom-Flex® Temp Drawer where you can set a temperature between -6 to 45 degrees - it can be an extension of either the freezer or fresh food section. Prevent spoilage with CrispSeal® Crispers with Auto Humidity that stops air from coming in and removes unwanted moisture, and with the help of TwinTech™ Cooling System, it adds up more assurance of keeping your foods fresh as it maintains the right temperature all the time.
Accessing your fresh food section is now easier with the OpenAccess Door! Without having to open the left door, you can get up to 75% access to your fresh food with the right door. Closing is much easier too with the Auto-Close Doors feature that closes the door automatically without leaving any gap. Also, this model includes air filters for keeping your fridge fresh and water filters for accessing safe water. This model also features a tall ice and water pocket so you can put tall bottles and even pitchers up to 10.5 inches! It also has two ice makers - one can be found in the fresh food section, and the second one is in the dispenser where you can choose either crushed or cubed ice.
This counter depth refrigerator is covered by a one year parts and labor warranty. Looking for a model without an exterior ice and water dispenser? Try the Frigidaire FRFG1723AV, available at around $1,999. This model is from Frigidaire, not Frigidaire Professional, but this has similar features.
Dimensions:
Width: 36"

Depth: 29.125"

Height: 70"
Click here to read over 40 real customer reviews of this product!
Note: Customer reviews on our website are mixed, but overall reviews are positive on other retailer websites.
Frigidaire Professional PRMC2285AF - $3,899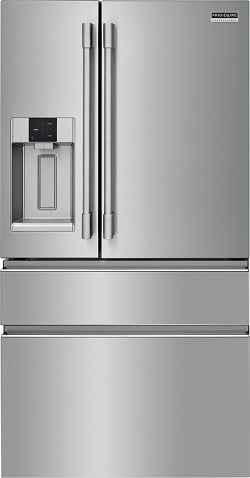 2. The KitchenAid KRFC300ESS - 20 cu ft - $2,599
The KitchenAid KRFC300ESS offers 20 cubic feet of capacity and a noticeably lower price point. It's a very popular model with gorgeous commercial styling and an interior water dispenser. This Energy Star rated model features multi-level LED lighting, an included wine rack, and so much more!
Since it lacks an ice maker in the refrigerator section or an external dispenser, you have more room in the door and the interior. This model includes four half-width adjustable shelves with metallic trim plus a four-bottle wine rack, humidity controlled crispers, and a full-width pantry drawer. The door storage includes five lined bins and a dairy corner. The freezer comes with an automatic ice maker. You can use the Max Cool setting after you've loaded in groceries to boost cooling power for a short time. The FreshChill full-width pantry drawer has a manual temperature setting so you can store a variety of items at the perfect temperature, from salmon to eggplants.
This model comes with a great warranty: one year parts and labor, cavity liner and sealed refrigeration system parts and labor for years 2-5, and parts only on the sealed refrigeration system for years 6-10. The sealed refrigeration system includes the compressor, evaporator, and other important components of your refrigerator.
Dimensions:
Width: 35.75"

Depth: 30.5"

Height: 70.125"
Click here to read over 1,885 real customer reviews of this product!
Note: Customer reviews on our website are mixed, but overall reviews are positive on other retailer websites.
KitchenAid KRFC300ESS - $2,599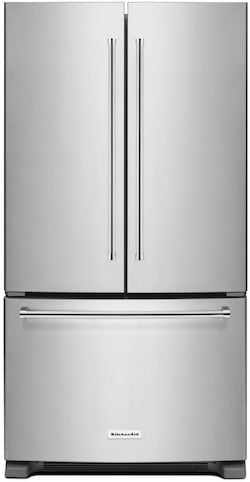 Features Comparison
Features & Options: If you're a heavy ice user, you may prefer the Frigidaire Professional model's dual icemaker capability. If you don't have much use for filtered water dispensers, you may prefer the KitchenAid option. Both models come with high-end interior storage features like lined door bins, LED lighting, and pantry drawers.

Look & Feel: Both models offer commercial styling with bar handles. If you want a totally integrated look, you may prefer the KitchenAid's lack of external water dispenser. The Frigidaire Professional model is slightly larger while also sticking out less with a depth of 29.125" compared to the KitchenAid's 30.5". The KitchenAid model also has basic temperature controls located at the top of the refrigerator section, while the Frigidaire Professional model has integrated controls in the door and dispenser.


Price & Warranty: KitchenAid wins here with a lower price combined with better warranty coverage of the crucial components of your refrigerator. However, the Frigidaire model has a few more high-end features like the integrated controls, plus the dual icemakers and other great premium options that may make it worth the price.
If it comes down to pricing and warranties, KitchenAid is the obvious winner here in this comparison of the best counter depth refrigerators. But if you want an external dispenser and a few more bells and whistles, the Frigidaire Professional model might be worth it to you! Take a look at both brands when you go shopping. We believe that you'll be impressed with the styling and quality that are built into these products. If you're still researching different models, check out our reviews of the best counter depth refrigerators of the year or the largest counter depth refrigerators of the year!
Please leave us a comment below - We'd love to hear from you!
Editor's Note: This blog was originally written in January of 2016 and has been completely revamped and updated for accuracy as of the publication date noted above.