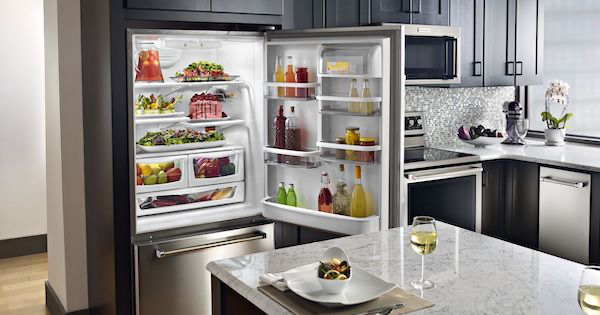 The bottom freezer refrigerator flips the familiar top-freezer style upside down so you don't have to bend over to access your most-used items in the refrigerator cavity. We compare two great models from Maytag and KitchenAid to help you figure out which bottom freezer refrigerator is best for you. Discover even more models in our article on the best bottom freezer refrigerators of the year!
Whirlpool is the parent company of both Maytag and KitchenAid, and these refrigerators have a few similarities in styling inside and out. Both are highly rated appliances with great warranties and energy efficiency. They are both available in stainless steel only. Let's dig in!

1. The Maytag MBF2258FEZ - 33" - 22 cu ft - $1,599
First in our comparison of the best bottom freezer refrigerators is the Maytag MBF2258FEZ, available in fingerprint-resistant stainless steel only at $1,599. This 33'' wide fridge has a 22 cubic foot capacity with reach-through handles and a factory-installed ice maker in the freezer.
There are a lot of great design features in this Maytag model. The electronic temperature controls are located at the front of the refrigerator cavity for easy access. Adjustable spill-proof glass shelves and a combination of full-width and half-width door bins help you customize your storage area for items of all shapes and sizes. Automatic Defrost reduces frost buildup, and the BrightSeries LED lighting ensures you can see every inch of your refrigerator space. This model is also Energy Star rated.
Designed and assembled in the USA, this model comes one year full manufacturer's warranty for parts and labor as well as a 10-year limited parts warranty on the compressor. Households of 4-5 people can definitely benefit from the 22 cubic foot capacity.
Dimensions:
Width: 32.625"

Depth: 33.375"

Height: 70"
Click here to read over 80 real customer reviews of this product!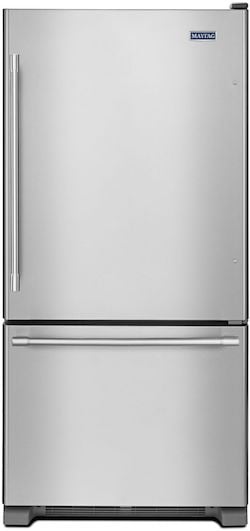 2. The KitchenAid KRBR109ESS - 30" - 19 cu ft - $1,899
Next in our comparison of the best bottom freezer refrigerator models is the KitchenAid KRBR109ESS. KitchenAid, like Maytag, is made by parent company Whirlpool. At 30" wide, this model provides 19 cubic feet of storage space ideal for households of up to 3-4 people. It also has a built-in metal wine rack! It's available in stainless steel only at around $1,899.
Some of the additional features you'll find in this bottom freezer refrigerator include the ExtendFresh temperature management system, an optional ice maker kit, and a produce preserver system with humidity-controlled crispers. The LED lighting and Energy Star rating make this model an efficient choice for your kitchen. The perfect refrigerator for chilling a bottle of wine before serving, this KitchenAid model keeps it simple while maximizing storage space and managing the temperature efficiently.
If you're not sold on factory-installed ice makers, you may prefer this fridge. If an ice maker is a must, a fridge that comes with a built-in ice maker may be preferred. This smaller capacity model is narrower than the Maytag model, making it a good option for kitchens with limited space. The warranty covers one year parts and labor on the full appliance, parts and labor on the 2nd through 5th year on the cavity liner and sealed refrigeration system, and parts only on years 6-10 on the sealed refrigeration system. "Sealed refrigeration system" refers to the compressor, evaporator, and other important core parts of your refrigerator.
Dimensions:
Width: 29.75"

Depth: 33.375"

Height: 67"
Click here to read over 60 real customer reviews of this product!
KitchenAid KRBR109ESS - $1,899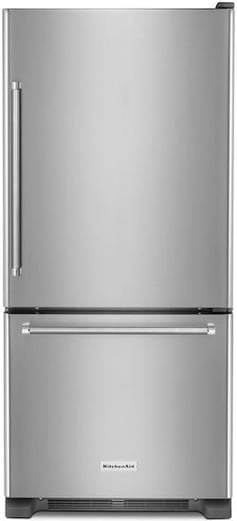 Features Comparison
Capacity & Dimensions: Both models could handle the household grocery needs of up to 5 people, and both offer narrower footprints than you'll typically find in side by side or French door models, which are typically 36" wide. If you have a small kitchen, the 30" wide KitchenAid model might be a space efficient choice that's still an aesthetic upgrade from a top freezer refrigerator. If you have a little extra space, the Maytag model is a great option for larger households.

Look & Feel: Both models offer a commercial feel with towel bar style handles, and are only available in stainless steel. They even have similar interior design with clear drawers and door bins trimmed with white plastic. The Maytag model comes with an icemaker, which is an optional install on the KitchenAid model.

Warranty & Price: With the Maytag model, you're getting a large capacity for a lower price than the KitchenAid model. Both models have industry-leading warranties going above and beyond just covering one year parts and labor, but the KitchenAid model stands out by offering five years parts and labor on the entire sealed system and then an additional five years on the sealed system. The sealed system includes more crucial internal parts than the compressor so the KitchenAid warranty offers a greater degree of coverage than the Maytag warranty.
It's up to you to decide which model is right for your needs. If you need a compact model that looks great and are concerned about getting the best warranty coverage possible, you may prefer the KitchenAid model. If you need a larger capacity model, would prefer to have an icemaker already installed, and want an industry-leading warranty, the Maytag model might be a great option.
Which one do you prefer? Leave us a comment below - We'd love to hear from you!
Editor's Note: This blog was originally written in July of 2018 and has been completely revamped and updated for accuracy as of the publication date noted above.