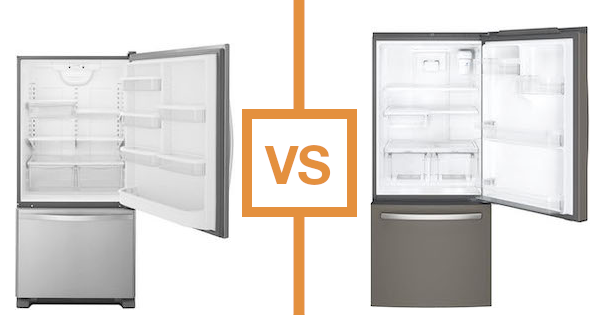 GE and Whirlpool both offer a great range of refrigerators, so you may be curious about what they have in the bottom freezer refrigerator category. Bottom freezer refrigerators flip the traditional top-freezer model upside down. You have easy access to the fridge without bending over, and the drawer-style freezer doesn't require careful management to avoid spilling bags of frozen vegetables on the floor!
In this article, we'll compare two of the best bottom freezer refrigerators from GE and Whirlpool, including features, prices, and links to customer reviews.
1. The GE GDE21EMKES - 30" - 20.9 cu ft - $1,998
Although looks aren't everything, GE has an eye-catching finish to offer appliance buyers: GE slate. Learn more about how slate measures up to the go-to premium finish of stainless steel in our article: Slate Appliances Versus Stainless Steel, Reviews, Pros & Cons. The GE GDE21EMKES 21 cubic feet 30" bottom freezer refrigerator is available in the slate finish as well as stainless steel for $1,998. You can also go for a more traditional look with sleek black or white models for $1,898.
This refrigerator is Energy Star rated and incorporates crisp, clear LED lighting. Upfront temperature controls with a digital temperature display make it easy to stay informed on your refrigerator's settings. Shelving and two of the door bins are adjustable, and the refrigerator also comes with a sliding snack drawer. It also comes with a factory-installed ice maker so it can automatically make ice. And with its advanced water filtration system, most pharmaceutical traces from water and ice are reduced.
GE includes a one-year warranty for parts and labor with this bottom freezer refrigerator. It's one of the best bottom freezer refrigerators that's Energy Star rated and a slim 30" width. The slate finish is unique to GE appliances and a must-see if you're interested in a luxe, earth-toned look for your kitchen.
As of this writing, GE offers two other bottom freezer refrigerators, including the popular GE GDE25EYKFS, a 24.8 cubic feet 33" wide model for $2,098, and model GBE21DYKFS, which is similar to the model we reviewed but with a swing-out freezer door rather than a drawer style freezer for $1,548.
Dimensions:
Width: 29.75"

Depth: 36.625"

Height: 69.875"
Click here to read over 125 real customer reviews of this product!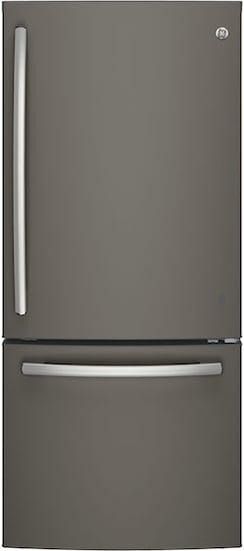 2. The Whirlpool WRB322DMBM - 33" - 22 cu ft - $1,999
Next up in our comparison of the best bottom freezer refrigerators is the Whirlpool WRB322DMBM. It comes in black or white at $1,899, stainless steel at $1,999 or black stainless steel at $2,099. It's Energy Star rated with an XL 22 cubic feet capacity and 33'' width. It can handle the needs of large households without amping up your electricity bill!
LED lighting helps you see every inch of the spill-proof glass shelves, adjustable bins, and deli drawer. This model includes features like Adaptive Defrost and the FreshFlow Produce Preserver to help your fresh fruit and vegetables last longer. For a lower price than the GE model, you get a larger capacity!
Keeping all of your grocery items organized and within easy reach is a cinch with this extra-large bottom freezer refrigerator from Whirlpool. It's one of the best bottom freezer refrigerators with this capacity and an affordable price point.
Whirlpool offers two other bottom freezer refrigerator models - model WRB329DMBM, 30" wide with 18.7 cubic feet of capacity at $1,999, and model WRB119WFBM, the same size but with a swing-out freezer door rather than a drawer for $1,599.
Dimensions:
Width: 32.625"

Depth: 33.375"

Height: 70"
Click here to read over 4,630 real customer reviews of this product!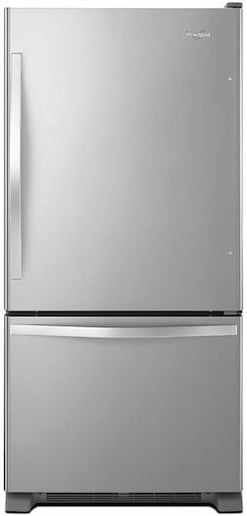 Features Comparison
Capacity & Dimensions: GE offers a narrower width but adds on about 3" of depth to make up for it, while the Whirlpool model is wider but shallower, so it won't stick out as much from your countertops. They take up the same square footage overall so that is part of why there isn't a significant difference in capacity.

Look & Feel: Both models come in stainless steel, black, or white. GE offers their unique slate color while Whirlpool offers an option in black stainless steel. They have comparable exterior styling - simple but modern.

Storage & Other Features: Both models come with similar interior storage options, but the Whirlpool model offers more half-width adjustable door shelving than the GE model. Both have factory-installed ice makers and are Energy Star rated. GE and Whirlpool offer a one year parts and labor warranty, but Whirlpool goes a step further with parts and labor coverage on years 2-5 on the cavity liner and sealed refrigeration system.
It's up to you which model is the best bottom freezer refrigerator for you. The GE model may be the better choice for smaller kitchens, but it still has enough capacity to easily handle the needs of 4-5 adults. The Whirlpool model is about a cubic foot larger with a shallower depth so it will stick out less from the surrounding cabinetry. Plus the warranty is notably better. For more great models to consider, check out our reviews of the best bottom freezer refrigerators of the year!
We hope you enjoyed this comparison of best bottom freezer refrigerator models. Let us know which model you end up with. We'd love to hear from you!
Editor's Note: This blog was originally written in June of 2018 and has been completely revamped and updated for accuracy as of the publication date noted above.