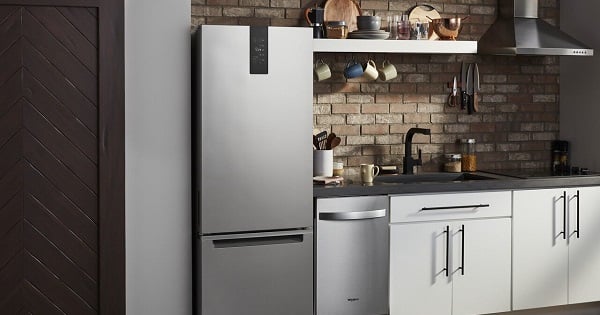 The most popular refrigerator styles have gotten wider over time - most French door refrigerators are 36" wide, as are most side by side refrigerators. You won't find a side by side under 33" wide. Many bottom freezer refrigerators are 30-33" wide and are less expensive than comparable French door models to boot. But what if you're replacing an older 28" or 30" wide refrigerator and can't fit one of these larger, wider models? What are your options?
Of course, there's always the top freezer refrigerator. This style of refrigerator is the most energy efficient and they tend to lead in reliability, too. However, bending over to access the fresh food compartment isn't fun. If you're looking for a narrow refrigerator that's convenient to use, you have options! And we'll review them below.
Table of Contents
The Best Brands for Narrow Refrigerators
Let's say you don't want a top freezer refrigerator and are looking at bottom freezer single door and French door models only. If that's the case, you'll want to focus on...
European or European-styled brands like Bosch, Blomberg, and Fisher & Paykel for 24" wide bottom freezer refrigerators

Danby and Avanti if you're on a budget

Whirlpool - Sometimes offer niche products like ultra narrow refrigerators, and have 30" wide options for French doors in particular

Haier for some 28" wide French doors and single door bottom freezers

GE - Has a good variety of bottom freezers 28-30" wide plus a few 30" wide French doors
Frigidaire is not a great option for a narrow refrigerator if you don't want a top freezer model, with the exception of their new model FRFG1723AV, which is a counter depth French door that is just over 31" wide. Samsung and LG tend to have a few scattered options in narrower widths but not many.
Ultra Narrow Refrigerators - 24" Wide
Europeans are the experts when it comes to squeezing appliances into tight spaces, which is why brands like Bosch and Blomberg tend to shine in this category. Fisher & Paykel is also an option. These tall, sleek refrigerators typically range from around $1,499 to $2,499 MSRP and max out at around 13 cubic feet. There are some exceptions to that pricing, like refrigerator brand Danby, which offers cheaper models under $1,000.These refrigerators are often over 60" tall, easily 70" or more. Mainstream brands like Whirlpool also occasionally offer super narrow bottom freezer refrigerators, like the Whirlpool WRB543CMJZ.
You can also find top freezer refrigerators that are 24" wide at much lower prices from brands like Whirlpool and Frigidaire. These are often referred to as "apartment size refrigerators."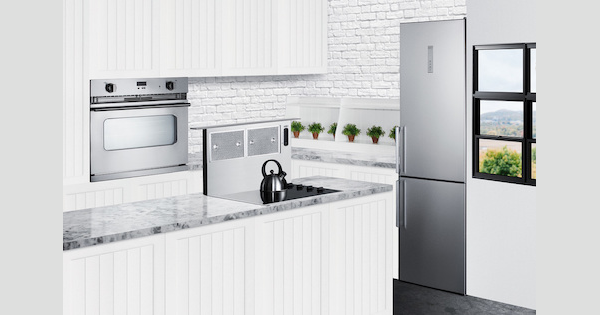 28" Wide Refrigerators
It is relatively easy, again, to find top freezer refrigerators that are designed to fit 28" wide spaces. This is a relatively common size for refrigerators, and you can find options from Frigidaire, GE, and Whirlpool.
There aren't a lot of other styles that meet this width requirement. One example is the LG LBNC15231V (pictured below) bottom freezer refrigerator with a single fresh food door at $1,299 MSRP. There's also the Haier HRB15N3BGS, a bottom freezer refrigerator selling at $1,398.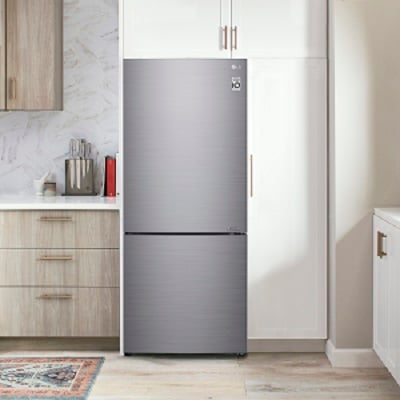 30" Wide Refrigerators
This is where you can start finding more French door refrigerators and a selection of bottom freezer refrigerators. Although these refrigerators are smaller than their 33" and 36" wide counterparts, they aren't cheaper. In some cases, they are even slightly more expensive than a comparable wider model because they are a "niche" product.
Some of your options for bottom freezers include Amana, Blomberg, GE, KitchenAid, Maytag, and Whirlpool. GE tends to have the widest variety of models. One nice thing about the bottom freezer models is that you may be able to reverse the door swing if your width issue is due to the refrigerator being installed next to a wall.
As for French door refrigerators, choices are more limited, but they're still available! Brands that make 30" wide French door refrigerators include Whirlpool, Maytag, LG, KitchenAid, and GE. You typically have the most options from LG and Whirlpool. Here are a few examples:
I hope this article helped you "narrow down" your search for a narrow refrigerator! Leave us a comment below - We'd love to hear from you!
Editor's Note: This blog was originally written in May of 2021 and has been completely revamped and updated for accuracy as of the publication date noted above.