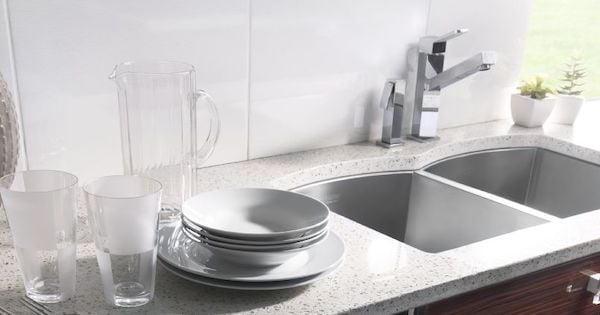 If you're building a new home or renovating an existing one, you may be in the market for a new garbage disposal as part of your kitchen package. We're going to take a look at some of the best garbage disposal options on the market from world-famous manufacturers Insinkerator and XO, plus competitor Waste King. We'll examine three models at different price points with different features to help you choose the best garbage disposal for your home.
Not all models are created equally! Let's take a closer look. You can start with our introductory overview, or click here to skip right to the reviews.
What to Look For in a Garbage Disposal
If this is your first time buying a garbage disposal, make sure you've checked out your area's disposer policy (if any) and that your septic tank is big enough. Make some calls to your local sewer authority and local building inspector or environmental health official to get these questions sorted out! And of course, if you already struggle with frequent clogs and other plumbing issues, a garbage disposal is likely to add to the problem.
The models in our review are all continuous feed models - the most popular style on the market, and for good reason. Usually controlled by a wall switch, they continue to run from when you turn the power on. For consumers who generate a large amount of waste, these are generally the better option because you can keep tossing food in the disposal while it's running. They also have splash guards to prevent debris from coming out when the disposal is running. They typically take up a bit less space than the alternative (batch feed models) and cost less money.
Sometimes called "cover-control" disposals, batch feed units won't run unless you put a stopper into the drain before turning it to start the grinding. All of the brands featured in our garbage disposal reviews also make batch feed models as well. These models tend to be more expensive and are less popular.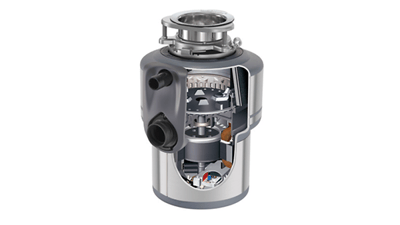 Motor horsepower is another consideration. 1/2 HP is a great starting point, but if you want to grind up tough items like small bones, melon rinds, and nut shells often, you may be better off with a more powerful 3/4 or 1 HP option. More powerful motors will grind tough stuff into finer pieces and do it faster. More powerful motors are often coupled with bigger grinding chambers as well to handle larger amounts of food at once. Of course, motors are noisy, and noise insulation is definitely something to consider as well!
Check out the dimensions in detail and make sure the model you choose will fit under your sink. Compact models, typically with 1/2 HP motors that are smaller and lighter, are widely available. Consider the warranty as well, which can be as low as one year or up to a lifetime if you go with select high-end Waste King models.
Look for stainless steel blades, and check out the grinding chamber materials as well. Waste King offers a nylon grinding chamber while others use stainless steel (although stainless steel can still be damaged by bones). Consider a removable splash guard to make cleaning up accumulated gunk around the mouth of the disposal easier.
Now, let's dig into the reviews!
1. The Insinkerator Badger 5 - $89
Insinkerator offers models at every price point, and, believe it or not, one of their best garbage disposal options is priced under $100. The Insinkerator Badger 5 prices at just $89 and offers a single phase 1/2 horsepower Dura-Drive induction motor that spins at 1,725 RPMs. According to Insinkerator, the Badger series is the best-selling garbage disposal line in the world, so you can rest assured that this is a time-tested product! We've certainly found it to be popular!
The Badger 5 has a grind chamber capacity of 26 ounces and features galvanized steel grinding elements. This model comes with a two-year limited manufacturer's warranty. Note that this model does not come with a factory-installed power cord and plug. The Quick Lock sink mount makes it easy to install.
(Trying to install a garbage disposal in a small space? Our second most popular Insinkerator model is from their higher-end Evolution line: the Evolution Compact, which is a great option for smaller spaces. It packs a 34.6-ounce grind chamber capacity into a sleek design measuring just 12.125" tall. Plus it has a 3/4 HP motor and SoundSeal technology for quieter operation, and it's backed by a four-year limited warranty. It prices at around $199.)
Features:
1/2 HP Induction Motor

1,725 RPM

2-year warranty

No factory-installed power cord or plug

Galvanized steel grinding elements

26 ounce capacity
Dimensions:
Height: 12.625"

Diameter: 6.3"

Distance from bottom of sink to center line of disposer outlet: 6"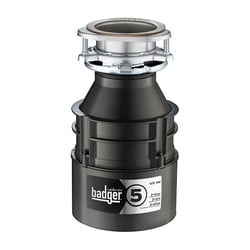 2. The XO XOD1HP - $219
XO is a niche brand known in particular for their ventilation products, but their garbage disposals are nothing to sneeze at! Each of XO's models has a 2,500 RPM high-torque motor that provides both speed and power to avoid jams. The components are high-quality, including a durable stainless steel turntable, cast impellers, and Bio-guard antimicrobial protection to prevent bacteria buildup. Plus, they all come equipped with a factory-installed power cord for your convenience. The minimum warranty is three years, up to a lifetime warranty in the premium 1HP models. XO garbage disposal models are workhorse machines for your kitchen designed for longevity and cleanliness.
Looking for something powerful and built to last with tons of torque? The 1HP motor of the XO XOD1HP continuous feed garbage disposal might appeal to you! This top-of-the-line model has a 29 ounce capacity and a powerful permanent magnet motor that can spin at up to 2,500 RPM to blast through any food waste. The twist lock mount makes it easy to install and it comes with a factory installed molded power cord and plug.
Use the wall switch control for convenient operation. Inside, you'll find Bio-guard antimicrobial protection and a Sound Insulation Shield, plus a stainless steel armature shaft and laser-sharp cutting ring. The splash guard is removable for easy cleaning as well. This powerful garbage disposal can handle tough materials without breaking a sweat!
XO backs their products with a 90-day "love it or leave it" guarantee plus a lifetime limited in-home warranty for this model. Discover more about XO garbage disposals in our article!
(If you like the looks of XO but want to spend less or need a compact model, the XO XOD12BUILDER at $85 might be a great pick for you! It has a 1/2 HP permanent magnet motor that spins up to 2,850 RPM and comes with a factory installed molded power cord and plug. XO covers it with a three year in-home limited warranty.)
Features:
1 HP Permanent Magnet Motor

2,500 RPM

Lifetime warranty

Factory-installed power cord or plug

Stainless steel grinding elements

29 ounce capacity
Dimensions:
Height: 15.75"

Diameter: 7.625"

Distance from bottom of sink to center line of disposer outlet: 7.19"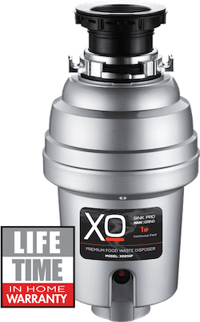 3. The Waste King L3200 - $140
Last but not least on our reviews of the best garbage disposal models is an option from Waste King. Waste King products are designed and manufactured by Anaheim Manufacturing Company (AMC), which also owns other waste disposer brands and is one of the two largest producers of food waste disposer systems worldwide. They were the first to use the permanent magnet motors you'll now find in many different garbage disposals! They're a quality brand that manufacturers their products in the US, but we have to admit that they aren't as popular in our store as Insinkerator. That doesn't mean they don't have a lot to offer!
The Waste King L3200 continuous feed disposal contains a 3/4 HP permanent magnet motor that can spin up to 2,700 RPM. It comes with a pre-installed power cord and a professional three-bolt mount for easy installation. The splash guard is removable and replaceable. A front-mounted reset button is easy to access, just in case!
It's well-insulated for quiet operation and has stainless steel grinding components with a reinforced polymer grind chamber to ensure that this appliance lasts a long time. If that doesn't convince you, how about an 8-year limited warranty?
(Looking for an upgrade? The Waste King L8000 is a little more expensive at $180 and comes with a 1 HP, 2,800 RPM motor and a 20-year limited warranty!)
Features:
3/4 HP Permanent Magnet Motor

2,700 RPM

8-year warranty

Factory-installed power cord or plug

Stainless steel grinding components, reinforced polymer grind chamber

30 ounce capacity (approximate - not listed)
Dimensions:
Height: 13.75"

Diameter: 7.75"

Distance from bottom of sink to center line of disposer outlet: 7.5"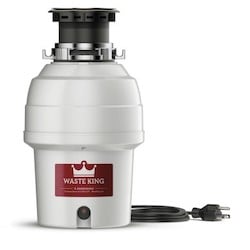 CLICK HERE TO SHOP ALL GARBAGE DISPOSALS
We hope this gave you an idea of your options and helped you find the best garbage disposal for your needs! Insinkerator is a top selling brand, but it's certainly not your only option. Depending on your installation requirements, budget, and how much food you're planning to grind, it's up to you to decide what model works for you.
Editor's Note: This blog was originally published in January of 2017 and has been completely revamped and updated for accuracy as of the publication date noted above.