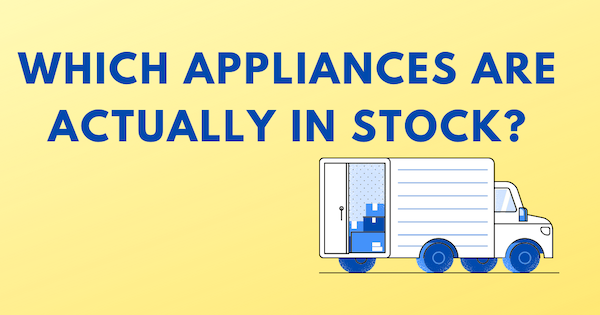 COVID-19 has disrupted supply chains around the world. As a small business, we have been able to adapt quickly to these major changes to help you find the appliances you need ASAP, but maybe you'd like to make researching a new appliance a little easier. In which case, we'll share some of our experiences with what types of appliances are most widely available from different brands.
We are part of a larger buying group with our own warehouse, and we are striving to keep inventory on hand so you can get your appliance quickly. We have many products in stock - but there is definitely less variety. For example, when we usually might be able to offer you 20 different models of top load agitator washers to choose from (and many more available by special order), today we may have 10 or fewer models that are actually in stock and available the same week for pick-up or delivery.
Last Updated: 8/5/20
(We intend to update this page each week with the latest information on what's in stock.)
Broad Strokes - What You Need to Know
Some manufacturers have almost ONE MILLION backorders nationwide.

If you're shopping for a full size refrigerator or top load washer - GET IN TOUCH WITH US. It will be very difficult to shop for these on your own because these items are in extremely short supply and availability is changing constantly.

We strive to get you items that are IN STOCK or have a CONFIRMED DELIVERY to our warehouse. Our buying group is working very hard to confirm orders, because there is no guarantee that orders we placed months ago are going to come in on time.
Which Brands Have What
Overall, GE Appliances has had the most options available when it comes to both kitchen and laundry appliances. LG has also kept up well, while Frigidaire/Electrolux and Whirlpool/KitchenAid/Maytag have faced some challenges. Please note that all brands are facing some degree of shortages. You will probably not see the full variety of products you are used to. We are focusing on what's in stock at a basic level.
Overall Availability
Notable Shortages
GE Appliances (Hotpoint)

Some of the best availability for gas/electric ranges and front load laundry. Some French door refrigerators and dishwashers coming in next week.

Hotpoint is pretty cleaned out - some ranges and dryers.

Other refrigerator types (side by side, top freezer, bottom freezer) still struggling. Top load washers are limited for Hotpoint and GE.
LG

Has had great availability in kitchen and laundry over past few months, but kitchen products are lagging. We're not seeing many deliveries for kitchen items this week. Laundry supply is okay, with okay stock of an entry level top load washers.

Dishwashers will likely be scarce until September. Ranges also limited. Not much for refrigerators outside of high-end $3,499+ models.

Whirlpool (Amana)

Limited across the board, but they seem to be improving. Good stock of one French door (36") with more coming in. Many confirmed deliveries this week, but they are still lagging overall with backorders. Possible side by side model in stock next week. Some electric ranges will be replenished next week. Same for dishwashers.

Ranges and refrigerators are limited, many refrigerators on backorder. Laundry product availability (namely top load washers) varies a lot; Amana washers out of stock.

Maytag (Owned by Whirlpool)

Some deliveries for kitchen products this week and next week - will have stock of one dishwasher model and an electric range. A couple of refrigerators.

Large deliveries of two top load washer models confirmed for next week.

Front load washers have fallen behind. Still major backorders on many top load washers.

KitchenAid (Owned by Whirlpool)

Some refrigerators coming in (mainly French door) but lagging overall. Some ranges - premium slide-ins next week.

Dishwashers are coming in next week and some are available now (black, white, stainless).

Some products are still on massive backorders - namely some dishwasher and refrigerator models.
Electrolux/Frigidaire
Many refrigerators on backorder, no confirmed deliveries yet. Dishwashers are in much better supply with more coming in this week. Ranges are quite limited.
Electrolux front load laundry for 1-2 more months. Refrigerators are lagging with no confirmed deliveries this week.
Samsung
Limited. Some ranges, especially gas in black stainless. Okay for front load laundry.
Top load laundry and cooking appliances are quite limited. No new refrigerators coming in this week. Dishwashers are mostly black stainless.
Bosch
Bosch is pumping out dishwashers, with huge orders coming in this week and next week! Surprisingly they have good refrigerator options too - their lineup is small and mostly French doors $2,999+.
They have ceased production on some dishwasher models in order to increase production on others. Ranges are mostly on backorder with no deliveries confirmed so far.
Best Brand For...
Need an appliance ASAP? Here are some of the best brands when it comes to having products available (click the links to shop these products on our website):
Although your options are still limited as to which models you can choose from, this can help you narrow down your search to items that are the most likely to be available. With our online product catalogue, items marked LOW STOCK or IN STOCK AT OUR OFFSITE WAREHOUSE can be delivered ASAP. Items marked CALL FOR STOCK INFO are out of stock, but you can contact us to see if there is a confirmed delivery order to our warehouse for that item in the near future.
For items in low stock across the board, like refrigerators, we encourage you to give us a call, email us, or stop by to talk about your options.
Why Are Things Out of Stock?
Factories around the world are closed down or running at reduced capacity. This can result in specific models not being produced at normal levels, or entire categories of products for a brand, depending on a lot of factors. Factories may be producing 40-70% of their normal output, so it's hard to say when we'll be getting a backordered product back in stock unless we have specifically confirmed a delivery date with the manufacturer. Delays can also happen further up the supply chain, but factory production is the major issue.
The larger buying group we are part of is making every effort to confirm whether the orders we've placed for appliances will actually come in as planned. Our sales team knows about these stocking issues and will be happy to help you find options that are in stock or on a confirmed order to our warehouse. Click here to learn more.
Please feel free to give us a call at 508-883-7235 for sales questions (Option 4) or service/repairs (Option 2), or email sales@bellinghamelectric.com or service@bellinghamelectric.com.