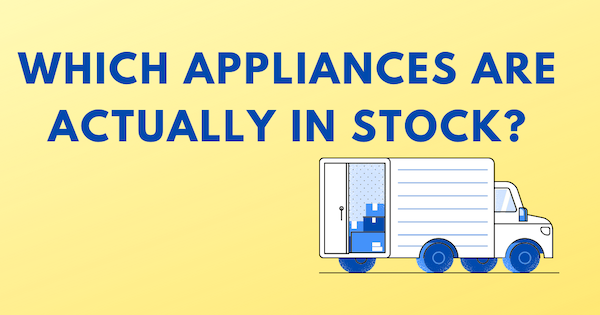 The pandemic has disrupted supply chains and caused appliance shortages that are likely to persist for many more months. COVID-19 has disrupted supply chains around the world. As a small business, we have been able to adapt quickly to these major changes to help you find the appliances you need ASAP, but maybe you'd like to make researching a new appliance a little easier. In which case, we'll share some of our experiences with what types of appliances are most widely available from different brands.
We are part of a larger buying group with our own co-op warehouse, and we are striving to keep inventory on hand so you can get your appliance quickly. We have many products in stock - but there is definitely less variety. For example, when we usually might be able to offer you 20 different models of top load agitator washers to choose from (and many more available by special order), today we may have 10 or fewer models that are actually in stock and available the same week for pick-up or delivery.
As more people are finding this post on Google, it seems important to add the following: If you are located in another part of the country, the general conditions of the brands are likely to be the same, but the specifics about which product types have scheduled deliveries may not apply.
Last Updated: 11/25/20
Jump To:
Broad Strokes - What You Need to Know
Some manufacturers have almost ONE MILLION backorders nationwide. In some cases we're crossing our fingers that we'll see certain models by Valentine's Day next year.

If you're shopping for a full size refrigerator or top load washer - GET IN TOUCH WITH US (or your preferred local dealer if you do not live in MA or RI). It will be very difficult to shop for these on your own because these items are in extremely short supply and availability is changing constantly.

We strive to get you items that are IN STOCK or have a CONFIRMED DELIVERY to our warehouse. Our buying group is working very hard behind the scenes to confirm orders, because there is no guarantee that orders we placed months ago are going to come in on time.

Unfortunately, big box store websites do not always do a good job of indicating whether an item is in stock before you order it.
MA/RI Residents: How to Shop for In Stock Items on Our Website
Although your options are still limited as to which models you can choose from, this can help you narrow down your search to items that are the most likely to be available. If you are browsing our inventory online, you'll notice some information over each product photo:

The meaning of "In stock at our off site warehouse" is pretty obvious - great news! We have this product!

"Low stock - Call now!" means there are only a few (less than 10) of that item left, and since our warehouse is shared by the rest of our buying group in the New England area, you'll want to snatch this appliance up fast.

"Call for stock info" means that this item isn't currently in stock. However, we encourage you to call us because we have live updates of deliveries coming up for this week and next week. Even if something isn't in stock right at this moment, it may be coming in on a truck in a few days - in which case it's a great idea to buy this appliance now and secure your place in line!
Which Brands Have What
Overall, GE Appliances has had the most options available when it comes to both kitchen and laundry appliances. LG was keeping up well but has had to slow down somewhat after dealing with huge increases in demand for their products. They still have laundry available but kitchen appliances are sparse. Frigidaire/Electrolux and Whirlpool/KitchenAid/Maytag have faced some challenges as popular brands and have been slowed down a lot.
Please note that all brands are facing some degree of shortages. You will probably not see the full variety of products you are used to. We are focusing on what's in stock at a basic level.
Additionally, this information is based on what we see in our warehouse. You can infer some national trends from it, or trends in the northeastern US, but not much more than that. We are located in Massachusetts. Your best bet is to find your local appliance store and talk to the people there.
Overall Availability
Notable Shortages
GE Appliances

A couple of French door refrigerators in good supply. Some cheap electric ranges and slide ins, more options for gas. They are putting out new ranges with air fry that are in high demand.

Washer supply is great in front load.

Top load washers and dryers are low for now. Dishwashers are mostly portable or very cheap built-ins.
LG

LG has been struggling with increased demand to make up for other manufacturers' reduced capacity. Some pricier refrigerators are available.

Laundry is looking pretty good, with a variety of models in front and top load. More front load style dryers than top load.

Kitchen products are pretty cleared out.

Whirlpool (Amana)

Whirlpool shipments have been improving, but demand is still very high which is preventing stock from sticking around. Basic dishwashers, a couple of French door refrigerators.

For laundry there are a few top load and front load options.

Amana washers are still available.

Kitchen is pretty cleared out except for a couple of French door refrigerators. Amana is cleared out except for their basic top load washer.

Maytag (Owned by Whirlpool)

The focus has been on laundry. Top load washers come in and are gone quickly. A few of their front loaders are in stock. Commercial washer is in stock.

Kitchen products are cleared out.

KitchenAid (Owned by Whirlpool)

New dishwashers are coming in, with large confirmed shipments that will wipe out the majority of backorders.

Kitchen products are scarce outside of dishwashers.
Electrolux

More dryer options than washers. Deliveries are coming in for backorders.

Front load washers and dryers will continue to be in limited supply.
Frigidaire

We saw more shipments from Frigidaire overall last month. Ranges are coming in, but other orders are mostly for backorders.

Refrigerators are coming in to fill parts of backorders but actual supply is very limited.
Samsung
Some front load and top load washers.
Kitchen in particular is very cleared out for now.
Bosch

As I write this we have only 18" dishwashers in stock, with a few deliveries for backorders this week. Bosch was keeping up really well with dishwashers but has slowed down recently.

Surprisingly they have good refrigerator options right now - their lineup is mostly French doors $2,999+.

They have ceased production on some dishwasher models in order to increase production on others.
Best Brand For...
Need an appliance ASAP? Here are some of the best brands when it comes to having products available:
Kitchen Packages: A matching kitchen suite of appliances is particularly hard to put together right now as different brands have different shortages. Right now you may have better luck with going for specialty colors like black stainless steel or GE slate, as these non-traditional colors are more likely to be in stock. Please contact us or stop in and talk to our sales team, and we can help you work something out.

Refrigerators: Very limited right now. We will see how things look in a couple of weeks. GE and Whirlpool are your best bet.

Top Freezers: Extremely limited outside of apartment-sized 7-12 cubic foot models and mini fridges. Lots of backorders. Talk to a salesperson about the options!

French Doors: This is where you'll find the most options. The models in best supply are mostly premium $3,000+ options from Bosch, with scattered options from other brands like GE and Whirlpool that change all the time. Right now there are some cheaper options under $2,500 which is great!

Bottom Freezer: Haier or Blomberg are your best bet for now.

Side by Side: Very limited.

Gas & Electric Ranges:

Electric ranges have slowed down for now. A few options in good supply from GE and other Frigidaire models coming in soon.

More options in gas at this time. Frigidaire and GE.

Dishwashers: KitchenAid has the highest total volume for now. Miscellaneous options from Whirlpool, Frigidaire, and GE.

Laundry:

Agitator Top Load Washers: Some GE, Amana, Whirlpool, Speed Queen, and Maytag models are in good stock for now. There's also a new option from LG.

HE Impeller Top Load Washers: GE and LG have the most stock right now.

Front Load Washers: Some solid options from LG and GE, plus some options from Electrolux, Whirlpool, and others.

Dryers

: Various options from LG, Maytag, GE, Whirlpool. More volume in front load style dryers for now.
For items in low stock across the board, like refrigerators, for MA and RI residents we encourage you to give us a call, email us, or stop by to talk about your options.
Why Are Appliances on Backorder or Out of Stock?
There are a ton of different reasons for why it's been difficult to get appliances into your home, including:
Factories around the world are closed down or running at reduced capacity. This includes factories that are assembling the appliances as well as factories that make individual parts. This can result in specific models not being produced at normal levels, or entire categories of products for a brand, depending on a lot of factors.

Factories may be producing 40-70% of their normal output, so it's hard to say when we'll be getting a backordered product back in stock unless we have specifically confirmed a delivery date with the manufacturer.

Delays can also happen further up the supply chain. Getting product on a boat or truck can be difficult if there are fewer transport options available or if transport is delayed

Believe it or not, demand for appliances has increased overall since the pandemic began, which compounds these issues.
The larger buying group we are part of is making every effort to confirm whether the orders we've placed for appliances will actually come in as planned. If you live in Massachusetts or Rhode Island, our sales team knows about these stocking issues and will be happy to help you find options that are in stock or on a confirmed order to our warehouse. Click here to learn more.