Upright vs Chest Freezers
---
One of the first things most people have to decide is whether to buy an upright freezer or a chest freezer. If the only factor is cost, you're probably interested in a chest freezer: these models have cheaper up front prices and tend to be cheaper to operate, too (although you should compare Energy Guides to get a better idea of the energy usage). Chest freezers are also referred to as "deep freezers."
| | |
| --- | --- |
| Upright Freezers | Chest Freezers |
| Tend to be easier to access and organize | More usable space overall, but you can lose food in piles |
| Cost more up front | Cost less up front |
| Come in white and other finishes (useful if you are installing in a kitchen or other living area) | Most are available in white only |
| Tend to be louder | Tend to be quieter |
| Many frost free/automatic defrost models are available (saves you time, but they cost more to operate) | Most are manual defrost (time consuming but more energy efficient) |
| Tend to struggle more during power outages with keeping food cold | Tend to keep food frozen for longer during blackouts/brownouts |
| Cold air "spills out" when you open the door | Cold air is better contained in the interior when you open the door |
Installing in a Garage? Read This!
---
It can be tempting to pop your new freezer in your garage, especially if you have a small home. However, unless it says otherwise, most freezers are designed to operate within your home in ambient temperatures of around 50-80 °F. They can burn out quickly if placed in a non-temperature controlled space like a garage - running up your electrical bill and possibly spoiling your food in the process!
Most freezers try to keep your food at or around 0 °F. Even in winter, an "indoor" freezer can struggle in a garage: let's say the ambient temperature is in the 30s. The freezer compressor may stop running, causing the interior to thaw. Even if that doesn't happen, frost can form and thaw on the components of the freezer due to the cold ambient air, which can result in "fun" problems like damaged coils and leaking refrigerant.
What this boils down to: buy a garage ready freezer, and pay attention to the ambient temperature range listed by the manufacturer. Garage ready freezers have improved insulation and different internal components to help them manage wider ambient temperature ranges. GE's garage ready freezers, for example, are tested to perform from 0-110 °F.
Choosing a garage ready model will save you money in terms of spoiled food, electricity, and repairs/total failures.
Choosing the Right Size Freezer
---
How big of a freezer do you need? Obviously, if you have a limited installation space or need to fit a freezer through a narrow doorway, that limits your options. You'll want to keep your freezer about 2/3 full most of the time (a mostly-empty freezer won't cool as efficiently).
One of the basic metrics recommended by the appliance industry is 1.5 cubic foot per person. One cubic foot of space can store around 30-35 pounds of food. That's 30 quart bags of ground beef, if you need a visual!
You may want to bump up the capacity by 10-20% (or even more) if:
You often buy meats, bread, etc in bulk

On a related note: If you hunt deer or like to buy quarter/half cows or other animals, that's a good reason to size up your freezer (half a cow = about 220 pounds = 7 cubic feet)

You have a garden and would like to freeze some of your produce for year-round consumption

You buy a lot of frozen meals, vegetables, and entrees
Keep in mind that frozen items don't stay tasty forever - in most cases you'll want to be regularly using up old items in a year.
A household of two people might find a 3-4 cubic foot freezer is perfect; while a household of 5 with a garden but not a frozen pizza habit may prefer a 10 cubic foot model.
The 4 Main Freezer Sizes
Compact/Mini: 3-4 cubic feet

Small: 5-10 cubic feet

Medium: 12-19 cubic feet

Large: 18+ cubic feet
Average Freezer Dimensions
| | | | |
| --- | --- | --- | --- |
| Chest Freezer Capacity | Height | Width | Depth |
| 5.0 cu. ft. | 32-33" | 28-30" | 21-22" |
| 7.0 cu. ft. | 32-33.5" | 37-39" | 21-22" |
| 9-10.0 cu. ft. | 33" | 41.5-44" | 24-27" |
| 14-15 cu. ft. | 32-36" | 47-56" | 30-32" |
| 20-22 cu. ft. | 32-34" | 66-74" | 30-33" |
| | | | |
| --- | --- | --- | --- |
| Upright Freezer Capacity | Height | Width | Depth |
| 3.0 cu. ft. | 33-34" | 19.5-21.5" | 20-22.5" |
| 6.0 cu. ft. | 56-57" | 21-22" | 22-23" |
| 8-9.0 cu. ft. | 59-60" | 23-24" | 25-26" |
| 13-14.0 cu. ft. | 60-64" | 28-30" | 25-32" |
| 16-18 cu. ft. | 60-67" | 28-30" | 25.5-32" |
| 20-22 cu. ft. | 67-72" | 32.5-33" | 28-29" |
Keep in Mind:
If installing inside, measure your doorways and make sure that the freezer you choose is not too wide to fit through them.

Remember that you will need to leave 1-3" of space on all sides of the freezer for air circulation.
Terms & Features - Options to Consider
---
Energy Efficiency
Freezers with an Energy Star rating are at least 10% more energy efficient than the minimum federal standard. Compare the Energy Guides between different models to get a better idea of their operating costs. Also, keep in mind that larger freezers use more energy, and that manual defrost freezers use half as much energy as automatic defrost models (but need to be defrosted periodically).
Self Defrost/Automatic Defrost
Frost free freezers have a heater that runs 2-3 times a day to defrost the evaporator. The moisture usually drains into a tray underneath the freezer. This does not impact the frozen goods inside the freezer as long as the freezer is mostly full. These freezers cost more to run, but the tradeoff can be worth it. In hot, humid conditions with frequent door openings, the automatic defrost cycle may not operate properly.
Manual Defrost
Many chest freezers are manual defrost. This process needs to be done about once a year once there is ice buildup that is 1/4" thick, but could be more or less often depending on how often you open up the freezer. You have to take everything out of the freezer and unplug it so that all ice buildup can melt away. Using a hair dryer or other methods can speed up the process. Some models have front defrost drains to make it even easier.
Deep Freezer/Chest Freezer
These are interchangeable terms for long, low freezers that open from the top.
Convertible Freezers
Convertible fridge/freezers can change from refrigerators to freezers as needed. This seems like a more useful feature on smaller freezers. They could come in handy if you are planning a party or an event and need to boost your fresh food storage space.
Soft Freeze Section
Some upright freezers come with a "soft freeze" area that stays a little warmer than the rest of the freezer, making it an ideal storage space for ice cream. It's a covered bin. Frigidaire and GE are two brands that offer them.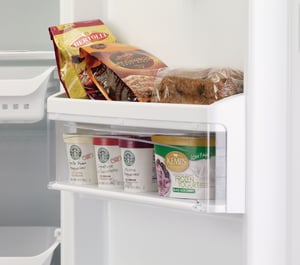 Freezer Lock
Freezers with locks can be useful if you want to protect children in your home or make sure that the freezer door is firmly closed after each use.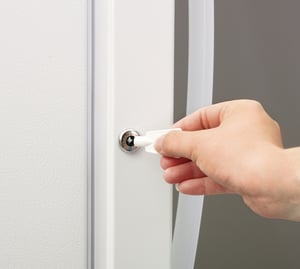 Temperature Alarm
These freezers will use an audible alarm to alert you if the interior is too warm.
Interior Lights
This is a particularly useful feature with larger models where it's easier to lose track of what's inside!
Power Indicator Light
Located on the exterior of the freezer, these lights are an easy way to make sure your freezer is receiving power.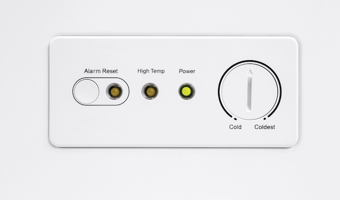 Interior Organization
Consider the shelving or bins/baskets available in the freezer. Upright freezers may offer glass or wire shelving, as well as door shelving.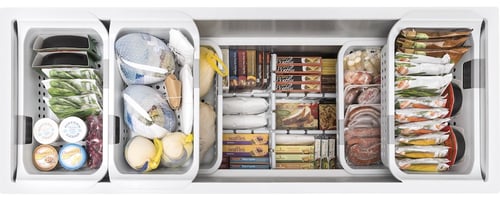 Temperature Controls
Temperature controls may be located on the inside or outside of the freezer, and can be digital controls or dial controls. Digital controls located on the outside of the freezer are a higher-end feature.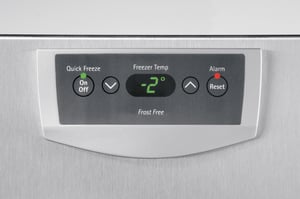 Other Factors to Consider
---
Brands Offering Freezers
Several mainstream "household names" offer chest and upright freezers, including Whirlpool, GE, Frigidaire, Amana, and Hotpoint.
For small models under 10 cubic feet, you can find chest freezers from Hotpoint and GE. Frigidaire has a limited selection of upright freezers under 10 cubic feet. Danby is another option.

Many brands offer 13-18 cubic foot models in both upright and chest freezer configurations, including GE, Frigidaire, and Maytag.

For cheaper models, consider Amana (owned by Whirlpool) and Hotpoint (owned by GE/Haier).

For extra large models 20 cubic feet and up, brands like Maytag, Whirlpool, and GE all make massive chest and upright freezers.

For garage ready models, we think GE is a good option since their garage freezers can tolerate a really wide range of temperatures, from 0-110 degrees!
We recommend choosing a "mainstream" brand because they tend to have good service networks to support their warranties, and they also tend to keep parts available for repairs down the road. You can find cheaper mini freezers from other brands.
How Much Do You Want to Spend?
| | |
| --- | --- |
| Budget | What You Can Get |
| <$500 | Small manual defrost chest freezers, typically under 10 cubic feet, from brands like GE and Hotpoint. |
| $500-$700 | Larger chest freezers (10-16 cubic feet) and a small number of upright freezers around 13-16 cubic feet. |
| $700-$1,000 | Many larger upright freezers (14-20 cubic feet) plus extra-large chest freezers over 20 cubic feet. |
Some freezer models from the mainstream brands we sell will go on sale throughout the year - these are typically small discounts from 10-20%, which could translate to anywhere from $50-200 off the retail price. Value brands don't go on sale as often, and the same goes for small mini freezers under 8 cubic feet. So if you're buying a small freezer from a value brand, you don't need to worry much about getting the best price as they are already close to "rock bottom."
"Clearance models" may pop up around January through May, as this is when some manufacturers tend to revamp their lineups so "old" discontinued models are discounted to make room for new models.
What to Know When You Go to the Store
---
Measurements of the installation spaces and doorways. If the model is going in your home, measure the width of the doorways it will have to fit through. You may also need to measure the available height, width, and depth of the area you would like to install it.

How much you want to spend. This will impact how big of a freezer you can get as well as what extra features come with it, if any.

The approximate capacity you need, based on the number of people in your household and your food storage habits.

Any extra features you are interested in, such as power indicator lights or door locks.
We hope that this guide helped you figure out the size and type of freezer you want. We carry brands like Frigidaire, GE, Hotpoint, Amana, Whirlpool, Maytag, and Danby. Keep in mind that freezers go on sale less often than other large appliances, and that most small and value-priced models don't go on sale except if they're on clearance.
Now it's time to head into the store and shop with confidence!