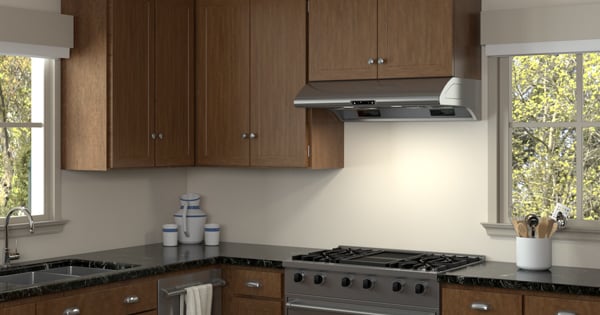 Broan (a NuTone company) and Zephyr are two well-recognized names in the kitchen ventilation industry for over-the-range style vented and recirculating hoods. They offer entry-level models with low CFM single filter fans and light options as well as sleeker models with moderate to high CFM and twin filters with four lights. (For more info on choosing a new range hood, check out our ventilation buying guide!)
Table of Contents
About Zephyr & Broan
Zephyr Ventilation was the first to recognize the high demand for more powerful, professional-grade in-home hoods and raised the bar with self cleaning filter-free, dry filter, and filter-free technologies on select models. Zephyr hood models have venting power ranging from 250 to 1,200 CFM to accommodate a wide variety of kitchens. Select models offer ADA-compliant wireless remotes that will operate from a 15 foot distance.
Broan, one of the leading brands of kitchen ventilation, has been manufacturing hoods since 1932 in Ohio, California, Canada, Chile, China, and Mexico. Their hoods range from 160 to 1,100 CFM. Throughout their line, select models may offer user-friendly features like halogen or LED lighting, auto start when the bottom of the hood exceeds a specific high temperature, timers, and even a remote control to be ADA-compliant. Features that some brands may have overlooked have been incorporated into their units.
Let's take a look at two top-selling Broan and Zephyr under cabinet hood models and compare the two.
The Zephyr AK2100CS (Typhoon Series) - 850 CFM - $699
One awesome Zephyr hood to consider is model AK2100CS, part of the Typhoon series. Available in widths from 30" up to a staggering 48" for professional gas ranges, all sizes offer three blower speeds of up to 850 CFM, which is plenty of power for the average home. In some cases it can be too powerful! - So it may require an additional air make-up kit to alleviate indoor air pressure. This model features Zephyr's Airflow Control Technology, which allows you to limit the maximum blower CFM level to meet your local code requirements for kitchen ventilation. With this technology, the maximum blower speed of this model can also be set to these CFM levels: 290 or 390.
Two LumiLight LED bulbs illuminate the cooking surface with crisp bright light. The capacitive touch controls also allow you to choose a Quiet Speed Setting and a Delay Power Off setting where the unit turns off automatically after five minutes. Even without the "quiet" setting, the blower is super quiet at just 5 sones, which is about the average noise level of a conversation.
The Typhoon has a filter-free design and is manufactured for outdoor venting only (so it can't be recirculated; it must be connected to ductwork). But that doesn't mean that the grease and oils are ejected outdoors. The dual centrifugal blower fan assemblies capture the minute soils on the rotating blades while odors are whisked outside your home. How do we clean these blades? Simple! Operate the hood fans on low speed and carefully spray mild detergent directly on the rotating blades and centrifugal force will handle the rest. No need to scrub greasy filters in the sink!
The warranty consists of 10 years parts and one year labor. The Typhoon's pricing is $649 in white or black and $699 in stainless steel in 30".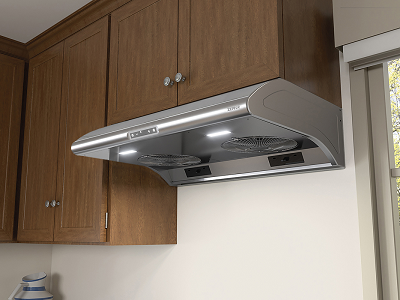 The Broan E6430SS (E64 Series) - 600 CFM/1,200 CFM - $841
An alternative to this Zephyr hood model comes from Broan. The Broan E6430SS (E64 Series) is available in four widths from 30 to 48 inches. It's nothing like the basic, lightweight, traditional ventilation hood most people are used to! With outstanding venting power of up to 1,200 CFM via the single or dual blower motors (depending on model width), it has the capability to handle almost any air cleanup. These models operate at up to 13.5-14.5 sones at max speed (600 CFM or 1,200 CFM), so they aren't the quietest, but they'll definitely get the job done when you urgently need to clear the air!
This model uses a solid-state rotary dial speed selector switch to assure product longevity. Broan's exclusive "Heat Sentry" feature will turn the blower on high when excess heat is detected from the cooking surface. Two dishwasher-safe stainless steel baffle filters with handles are included and make cleaning a breeze. Baffle filters are more aesthetically appealing than mesh filters, offer higher air flow, and are easy to clean, too. Dual 50W GU10 halogen bulbs (sold separately) brighten the darkest of stovetops.
Broan's E64 Series starts at $841 in stainless steel only and has a traditional 1-year parts and labor warranty. A recirculating kit is available for the 30" model E6430SS (pictured below). Optional stainless steel backsplash panels are also available to match the width of your stovetop and range hood and protect the wall from grease splatters.

Remember that the hood is a very important part of the kitchen appliance package! Broan and Zephyr offer a variety of hood styles, so take a look at what they have to offer and you may find the one that is right for your home. Whether you're looking for a professionally styled hood like the Broan E64 series or want a sleeker model like the Zephyr Typhoon, you have a lot of options to choose from!
We hope this was informative and will be helpful for you in your journey to find the best hood for your home. Please leave us a comment below - We'd love to hear from you!
Editor's Note: This blog was originally written in December of 2016 and has been completely revamped and updated for accuracy as of the publication date noted above.