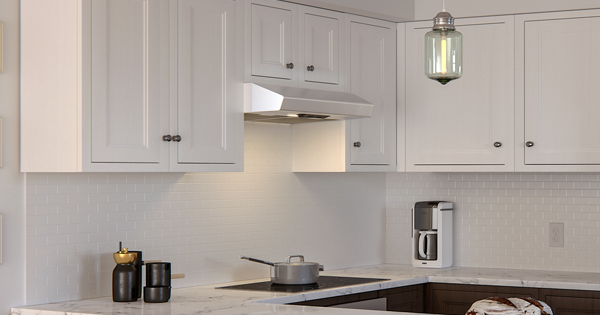 Zephyr Ventilation began designing and selling hoods in 1997 with a focus on the need for quality, cutting edge, professional-grade hoods for the home. Today, Zephyr has a reputation for selling well-constructed, high-quality ventilation equipment and is one of the top brands in the field. (For more info on choosing a new range hood, check out our ventilation buying guide!)
Their hoods have the look, the technology and the features that customers are looking for, like quiet operation, easy cleaning, good lighting and powerful venting. Be sure to consider a Zephyr hood when you are shopping for a new ventilation solution for your home! In our Zephyr range hood reviews, we'll take a look at three under cabinet models from their Breeze II, Gust, and Typhoon series in 30" sizes.
The Zephyr AK1200BS - Breeze II Series - $349
The Zephyr AK1200BS from the Breeze II series is a 30-inch hood with great styling and features (look at the AK1236 models for 36" wide options that otherwise offer the same set of features starting at $359 in stainless steel). The powerful 400 CFM 3-speed blower is enough to do the venting job in most kitchens, and at 4.5 sones it's quiet enough to run while you're cooking and still participate in conversation or listen to music.
The Breeze II features updated dual-level BriteStrip LED lighting for bright, energy efficient light that won't add to the heat in your kitchen! The electronic touch controls are conveniently placed and easy to use. The Delay Off feature will automatically power down the hood after 5 minutes of hard work, so you don't have to get up halfway through dinner to turn it off yourself. Plus, the two aluminum grease filters are dishwasher safe for easy cleanup. It can be vented vertically or horizontally, and with the addition of recalculating kit model OAK1121001, you can convert this hood to ductless operation.
Zephyr offers this hood in black stainless steel to meet the demand for this new premium finish (read more about black stainless steel appliances here) as well as stainless steel, black, or white. Pricing starts at $419 in black stainless steel, $349 in stainless steel, and $329 in black or white.The warranty covers three years of parts and one year of labor.
This hood is a great buy and would look great and perform well in any kitchen. Take a good look at this one when you go shopping!
Zephyr Breeze II AK1200BS - $349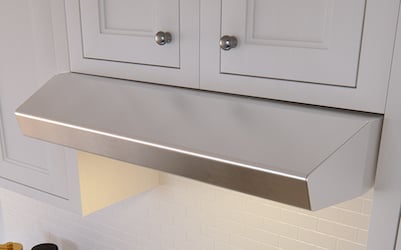 The Zephyr AK7100ASBF - Gust Series - $549
Are you looking for a professional European style range hood? The Gust series offers mechanical slide controls hidden under a stainless steel canopy with smooth curved edges for a seamless look. There are three sets of 30" and 36" models in the Gust series: models ending with AS are the base model. Models ending in ASBF come with baffle filters rather than aluminum mesh filters. Baffle filters are more aesthetically appealing than mesh filters while offering durability, high air flow performance, and easy cleaning. Models ending in AS290 are 290 CFM.
We'll focus on the baffle filter model AK7100ASBF since this has proven more popular with our customers than the other two options. With three speeds up to 400 CFM, maxing out at 5 sones (a little below the loudness of a typical conversation), this model is ready to work hard to clear out grease, odors, and humidity. Two 50W halogen lights will light up your work surface, but you can also replace them with Zephyr's Bloom LED bulbs (part #Z0B0040) if you prefer. The hood can vented vertically or horizontally, or set to recirculate with optional kits.
The 30" Gust models start at $499 in stainless steel for the AK7100AS and AK7100AS290, while the AK7100ASBF with baffle filters is $549.
The Zephyr AK2100BS - Typhoon Series - $679
If you are looking for more power and neat features like self-cleaning, the Typhoon series might be just what you need. Zephyr hood model AK2100BS is a 30-inch uniquely styled hood with innovative features that you will love. It's available in stainless steel for $679 and in black or white for $629. Models are also available in 36", 42", and 48" widths (42" and 48" models in stainless steel only) for use with professional gas ranges.
The virtually noise-free 850 CFM blower will do the job of venting for the heavy duty stovetop cooking, frying, and boiling where more power is needed, maxing out at just 5 sones. Other hood brands with similar CFM ratings can make double the noise of this model! The 6 blower speeds allow you to control the power to suit the job as needed. The filterless self cleaning system makes cleaning easy: it catches the grease in two small pull-out containers that are conveniently located near the blowers in the rear of the hood for easy access.
Capacitive touch controls, located in the front center of the hood, offer features like Delay Off, a Quiet Speed Setting, and dimmable lighting (via two 35W halogen bulbs). The venting can be done vertically with 7" round or 3.25" x 10" inch rectangular ducting or through the rear with 3.25" rectangular ducting. This hood is not convertible to ductless operation.
If you do a lot of stovetop cooking with high heat, this hood may be the perfect choice for you. Bonus: the Typhoon series offers a 10 year warranty on parts and 1 year on labor.
Zephyr Typhoon AK2100BS - $679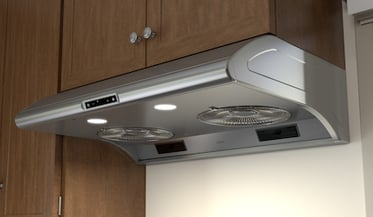 The hood is a very important part of the kitchen appliance package. We hope this Zephyr range hood review was informative and will be helpful for you in your journey to find the best hood for your home. You might also want to look into another specialty brand, XO Ventilation, or compare Zephyr vs Broan range hoods (click the links to read more).
Please leave us a comment below. We'd love to hear from you!
CLICK HERE FOR A LIST OF ALL ZEPHYR HOODS
Editor's Note: This blog was originally written in August of 2017 and has been completely revamped and updated for accuracy as of the publication date noted above.