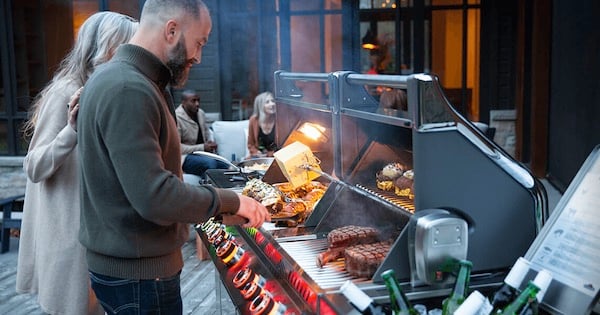 A gas grill can be a necessity for those of us who spend much of our time outdoors, whether the sun is shining or the rain and snow are falling. We treasure our grills for all they're worth and when it comes time to replace a tired unit, knowing what features are on the market will be valuable information. Models and prices will vary depending on color, sizing and features. It's likely that there are new features available that you haven't even heard of yet!
We'll discuss the differences between the two brands and compare their entry level models against one another in this Weber vs Napoleon match-up!
Weber's first grill was created by George Stephen. Starting out in a manufacturing warehouse facility that specialized in producing ocean buoys in Chicago back in 1952, Stephen was laughed at when he revealed his cooker to design engineers who said that he would not sell even one unit. Times have certainly changed since that period and Weber is now one of the most well-known and dependable grill manufacturers in today's market.
The Weber Spirit II E-310 - $449
One of Weber's most popular gas grills is the Spirit II E-310, a three burner entry level model available in black, ivory, red, or sapphire with an open cart design. The lid assembly is a porcelain enamel coated steel structure, which helps insulate during colder weather, and has a center mounted thermometer for easy temperature reading.
Under the lid, you'll find cast iron grates hovering over three individually controlled stainless steel burners with porcelain-enameled flavor bars for superior flavoring from food drippings. This model has a 529 square inch cooking area and a 30,000 BTU three burner powerhouse with porcelain-enameled cast iron grates. Learn more about Weber's GS4 grilling system in our article! This model also comes ready for the iGrill, a smart thermometer that you can use to get notifications on your smartphone when something is done cooking.
The Infinity ignition system allows the user to light one burner via the push starter and light the others simply by turning the burner control. Now that's simple! Two stainless steel work surfaces with six attached tool hooks come in handy for dish placement or food preparation. The left side table folds down if you have limited space for your grill.
Weber backs this product with a 10-year parts warranty - see their warranty page for more information. Pricing at $449, Weber gives the consumer a great product for the money. For a complete list of other Weber Models and Accessories, click here.
Weber Spirit II E-310 - 45010001 - $449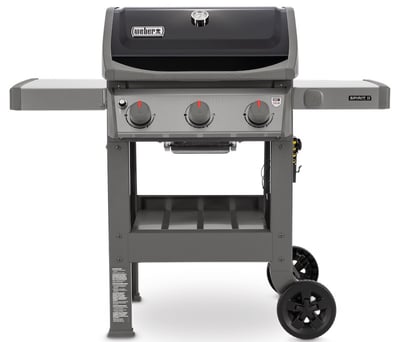 The Napoleon Rogue 525 - $699
Napoleon, North America's leading grill manufacturer, has a fantastic entry level grill that competes with the Weber - the Napoleon Rogue 525. This four-burner grill offers 48,000 BTUs and 517 square inches of total cooking area. Napoleon's iconic Wave porcelainized cast iron cooking grid is ideal for smaller, narrow items like hot dogs and sausages - Nothing is falling through the cracks into the fire in THIS grill! The Wave grates also help maximize surface area and heat retention. The closed cart design lets you hide tools and the propane tank, and a detachable storage basket offers additional storage on the side of the grill.
Dual-level stainless steel sear plates are Napoleon's answer to handling drippings: they protect the burners while also getting more flavor into your food. The Accu-Probe temperature gauge set on the outside of the lid is marked with the ideal ranges for smoking and searing. The JetFire ignition system offers convenient push-start burner ignition, too.
Napoleon offers a limited 15-year warranty with full coverage on various parts for different intervals, with the lids and castings/base being warranted for 15 years while other parts like the cooking grids get five years of full coverage. See their warranty information for more details. For a complete list of other Napoleon Models and Accessories, click here. This model is priced at $699.
Napoleon Rogue 525 - R525PK-1 - $699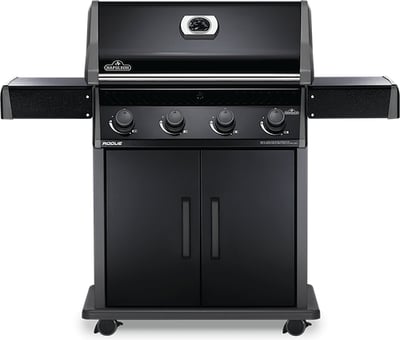 Both of these grills will give you many years of trouble-free use and will be the envy of the neighborhood. The Weber model is less expensive and has larger wheels that make it easier to move over rough terrain, but has lower BTUs. The Napoleon model has a closed cart look and a very different design take thanks to the Wave cast iron grates and stainless steel sear plates. The Napoleon warranty is longer, but both offer serious coverage for all of the core parts of your grill.
Both brands offer a wide range of models, from these entry-level options to the high-end, so check out the full variety of options if you can!
Editor's Note: This blog was originally written in May of 2016 and has been completely revamped and updated for accuracy as of the publication date noted above.