There are several hot new trends underway in the appliance industry. As far as appliance styling goes, by far the biggest trend right now is black stainless steel appliances. And when it comes to functionality, the hottest buzzword is smart appliances.
Smart appliances or connected appliances are being offered by several manufacturers, and several other brands have them in the works for late 2017 and into 2018. Samsung, LG, GE and Whirlpool are among the brands that currently have products on the market or are in the process of rolling out products in the smart appliance category.
In this article, we take a look at what LG has to offer in the smart appliance space.
So what are smart appliances, anyway? Broadly defined, smart appliances are appliances that can be controlled through a smartphone, or your favorite virtual home assistant like Alexa or Google Home. These appliances come in every category, from cooking appliances to refrigerators, washers and dryers. Their purpose is to help consumers by adding convenience and control in the context of today's fast-paced and connected lifestyle.
LG is one of the leaders in the smart appliance space and one of the first to introduce connected appliances. Let's take a closer look at a few LG smart appliances to learn more about what they offer.
The LG LFXS30766S refrigerator offers LG's SmartThinkQ technology and has several interesting features that you can control through your smartphone, such as:
The ability to active LGs Ice Plus feature to increase the amount of ice in in your freezer. Good in cases where you are having last-minute guests and need the extra ice.

Filter alerts to your smart phone letting you know when the refrigerator's fresh air and water filter need replacement. You can grab a new filter on the way home from work!
LG also offers connected appliances for your laundry room. One example is the WT7700HWA top load washer. This model has connected features for day-to-day use and for troubleshooting issues. This machine offers:
Download Cycle feature, allowing you to download additional custom cycles to your washing machine through your smart phone. These are specialty cycles in addition to the pre-programmed cycles that come standard with the machine.

LG SmartDiagnosis App feature allowing you to quickly and easily diagnose and potentially resolve service issues with your washing machine without the need to call customer service.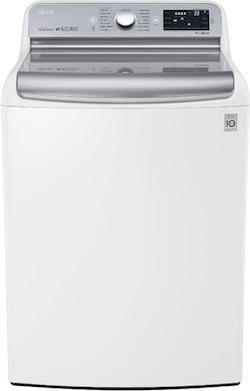 If you are in the market for new appliances, be sure to take a look at LG smart appliances and products from other manufacturers while shopping. They are really a game-changing trend in the appliance industry. Even if you are not ready to buy yet, you might want to see them in person and experience all of the cool features they have to offer.
Thank you for reading this blog about LG smart appliances. We hope that you found it informative and helpful. We encourage you to write a comment below. We value your input!