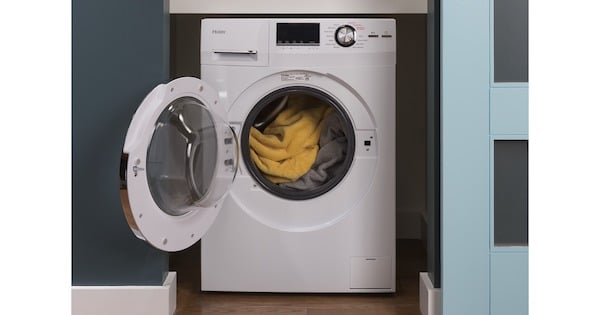 If you're struggling with limited space, the Haier washer dryer combo might have caught your eye. Haier is a top appliance brand with subsidiaries like GE and Fisher & Paykel. The Haier washer dryer combo is one of the cheapest washer dryer combo units available with an MSRP of around $1,000 (compared to MSRPs of $1,300+ for other brands), so it's a must-see if you're comparison shopping these unique laundry appliances!
In this article, we'll review this awesome product and help you decide if it's the right option for your needs! And check out our washing machine buying guide for even more information on choosing a new washer!
(Looking for laundry centers, with a unified top load washer and dryer? We review Frigidaire laundry centers here.)
Note: As of March 2020, Haier has discontinued the HLC1700AXW. We will leave up our review for the time being.
Table of Contents
Should You Buy a Washer Dryer Combo?
If you're shopping for a washer dryer combo unit, you're probably interested in saving space and simplifying the laundry process. One benefit of a unit like the Haier washer dryer combo: you don't have to remember to switch clothes over from the washer to the dryer or re-wash damp clothes that sat for too long and went sour! This type of laundry appliance is best for households of one to two people with light laundry needs because these units tend to be on the small side. It's not big enough to wash a queen sized comforter, and you'll have to be mindful of how the clothes will expand as they dry when you load it. These compact 24" wide units take up about the same amount of space as a standard size dishwasher.
We recommend carefully weighing the costs and benefits of these compact combination units. They're probably best for...
Apartments, condos, RVs, and tiny houses

Homes with no laundromat available nearby (however, keep in mind that large blankets and comforters may not be washable in compact units - in which case access to a full-size washer and dryer would be a good idea)

Light laundry needs (2.0 cubic feet = about 12 pounds of laundry; but to accommodate the way clothes expand when they dry, the actual capacity is more like 9 pounds)

For reference: Jeans weigh about 1.5-2 pounds, while bath towels are typically around 1 pound

Occasional use or convenience (if you don't mind the high upfront price)
They're not ideal if...
Waiting hours for a load to dry would drive you into a rage

You want to be able to wash bulky items like comforters

You want a machine that is as intuitive to use as a full-sized washer

The dealer you want to purchase it from does not service the product (getting manufacturer service can be difficult otherwise - in-house service is one of the benefits of buying from a local appliance store)

You want to wash fewer loads rather than spreading out a full-sized load over multiple washes
An alternative is stacking a front load washer and dryer, compact or full-size. They can cost about the same as a single washer dryer combo, and stacking them conserves space. Check out our compact washer review if that sounds preferable.
Other brands making combination washer dryers include LG and Blomberg. Whirlpool also makes a smart all-in-one washer dryer.
CLICK HERE TO EXPLORE WASHER DRYER COMBOS
How Do They Work?
How do they squeeze a washer and dryer into one unit? Well, the Haier washer dryer combo uses a condensation dryer rather than traditional vented drying, so you only need a water hookup and a 120 volt standard outlet (rather than the 220 volt outlet usually required for a vented dryer). That definitely makes the installation process easier, and gives you more flexibility in where you place your laundry appliance. It's ideal for condominiums, galley-style kitchens, pantries, closets, and other space-limited areas.
The tradeoff of a 120 volt outlet and condensation drying is that the drying heat is half as intense, so it will take longer to dry your clothes. However, there's another hidden benefit: drying your clothes at lower heat settings helps reduce wear and tear, especially on delicate items, and can help avoid shrinkage and wrinkling.
Now let's dig into the features and options for the Haier washer dryer combo!

Haier Washer Dryer Combo: Features, Pricing, & More
The Haier HLC1700AXW, pricing at $1,099 in white and available by special order in steel gray at $1,199, model HLC1700AXS, is a 24" 2.0 cubic foot capacity front load washer and dryer in one. It features a stainless steel drum, which is a great choice for durability since it won't rust or chip like painted steel can, and it's far less breakable than a plastic interior. If you need to send your sneakers through the wash, you can! The dispenser has you covered for detergent, fabric softener, and bleach. The controls - pictured above - are simple but intuitive with a premium feel.
An LED screen displays cycle selections for wash temperature, spin speed, soil level, and dry level, as well as other options, and the minutes remaining is displayed clearly as well. Of course, you can also choose automatic wash and dry cycles and let the sensors do the work for you! This model also includes a 24-hour delay start feature, ideal for timing the laundry cycle for utility prices or when nobody's home.
Cycle features include a Quick Wash cycle that will have a small, lightly soiled load washed in under 30 minutes, which you can follow up with a 30-minute Timed Dry to have a small load ready for folding and hanging in an hour. If you're curious, the longest cycle combination available is the Whites Cycle and Auto Dry, both of which can take up to three hours each to complete!
Features:
11 Wash Cycles: Whites, Heavy Duty, Bulky, Normal, Perm Press, Delicates, Quick Wash, Rinse & Spin, Spin Only, Soak, Clean Washer

5 Wash Options: Presoak, Extra Rinse, Prewash, Extra Water, Delay

3 Dryer Cycles: Auto Dry, Timed Dry, Timed Dry No Heat

1,200 RPM maximum spin speed

Designed for use with HE detergent

Child Lock: Prevents accidental changes to the operating machine

Exterior front mounted button/item trap

Warranty: 1 year labor, 2-5 year limited cabinet warranty
Dimensions:
Width: 23.43"

Depth: 22.47"

Height: 33.28"
Haier HLC1700AXW - $1,099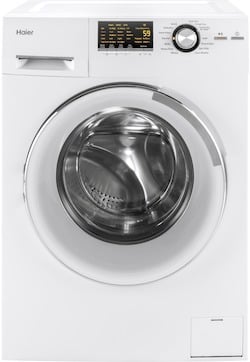 We hope you've enjoyed this review of the Haier washer dryer combo. While a compact washer dryer isn't for everybody, it has its value. Maybe it will be the perfect option for you! If you're looking for alternatives or other options to compare, we've written a few articles that might be helpful:
How do you think the Haier washer dryer combo measures up against other compact and stackable laundry options? Please feel free to leave us a comment below. We'd love to hear from you!
Editor's Note: This blog was originally written in June of 2017 and has been completely revamped and updated for accuracy as of the publication date noted above.