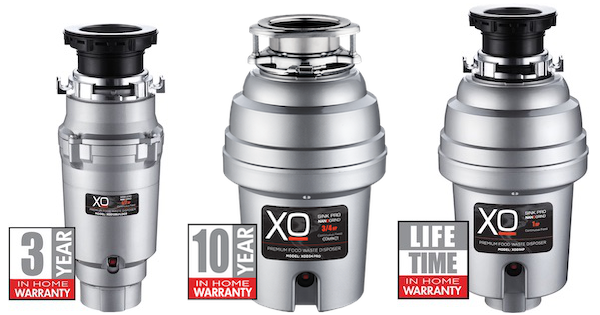 A garbage disposal can come in handy for anyone generating fresh food waste. They help prevent foul smells in the trash and make kitchen clean-up a breeze. When purchasing one, there are several options to consider, such as whether to buy a continuous feed or a batch feed, how much horsepower is necessary, and which brand to get. While there are many brands to choose from, we will be looking at just one quality company in these garbage disposal reviews: XO.
Why should you consider XO? Let's see...
Each model has a 2,500 RPM high-torque permanent magnet motor that provides both speed and power to avoid jams.

The components are high-quality, including a durable stainless steel turntable, cast impellers, and Bio-guard antimicrobial protection to prevent bacteria buildup. The removable splash guard makes clean-up easier, too.

Plus, they all come equipped with a factory-installed power cord for your convenience.

The minimum warranty is three years, up to a lifetime warranty in the premium 1HP models.
As a result of these quality features, XO garbage disposal models are workhorse machines for your kitchen designed for longevity and cleanliness and helps them compete strongly with our other top-selling brand, Insinkerator.
Let's take a look at the different models available from XO in order to determine which option is best for your home (for other brands, check out our post on the best garbage disposals). But first, we'll go over some features to consider when shopping for a garbage disposal.
Table of Contents
What to Look for in a Garbage Disposal
In each size, XO garbage disposals are available in either of the two main types of garbage disposals: continuous feed and batch feed. Continuous feed disposals are the most popular style on the market, and for good reason. Usually controlled by a wall switch, they continue to run from when you turn the power on. For consumers who generate a large amount of waste, these are generally the better option because you can keep tossing food in the disposal while it's running. They also have splash guards to prevent debris from coming out when the disposal is running. They typically take up a bit less space than their batch feed counterparts and cost less money.
Where batch feed disposals have the continuous feed beat is safety. Sometimes called "cover-control" disposals, batch feed units won't run unless you put a stopper into the drain before turning it to start the grinding. This can be especially important to consumers with children since there is far less risk of them sticking their hands into a running disposal. Foreign objects like spoons and knives are also less likely to fall in and get chewed up. Because grinding is done in batches, if food builds up in the disposal it may be more prone to generating bacteria and attracting insects.
Choose continuous feed if...
You produce a lot of waste that needs to be processed quickly

You want a smaller garbage disposal

You want to save money
Choose batch feed if...
You're concerned about safety

You have children in your home

You plan to grind small batches regularly
You should also consider...
The dimensions of the disposal you're considering

The installation system - XO offers QuicKonnect twist mount models for easier DIY installation as well as 3-bolt pro mount models that will fit most existing 3-bolt assemblies; plus their models come with a factory-installed power cord

Sound insulation, which is more robust on more expensive models
XO Garbage Disposal Reviews
The XOD12 0.5 HP Models
The first set of models we'll look at in our garbage disposal reviews are XO's 1/2 horsepower models. A 1/2 horsepower model is a good fit for...
Condos and apartments

Light usage needs

2-3 person households

Compact installations
They are smaller than their more powerful counterparts so they can fit underneath sinks with limited space. XO offers three options with this power level.
CLICK HERE TO SHOP ALL XO GARBAGE DISPOSALS
The XOD12BUILDER is a continuous feed economical garbage disposal priced at $85. It comes with a three-year in-home warranty and is often purchased by builders and contractors for rentals or house flips. This unit does not come with a sound shield so it will be noisier than the insulated XOD12HP and XOD12PRO models.
Dimensions:
Height: 13.81"

Width: 5.69"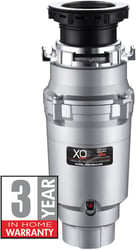 The XOD12HP is another continuous feed disposal, albeit a bit higher end than the last model and priced at $119. This one comes with a five-year in-home warranty and features XO's standard sound shield, which makes it operate at a lower noise level.
Dimensions:
Height: 13.81"

Width: 6.75"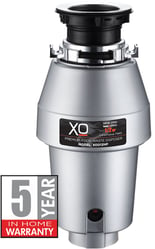 The XOD12PRO is a 3-bolt Pro Mount model. If you're replacing an old disposal then this model could be a perfect fit! It comes with a 5-year warranty and retails at $139.
Dimensions:
Height: 13.25"

Width: 7.19"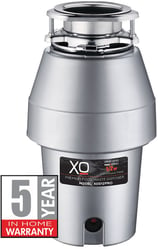 The XOD34 0.75 HP Models
If 1/2 horsepower isn't powerful enough for your needs, the next step up is 3/4 horsepower. This is the most common size for families and is well-suited for households of 4-5 people. With more might than its 1/2 HP cousin, this kind of garbage disposal is less prone to jams. While they also occupy more space, XO's 3/4 horsepower garbage disposals feature a premium sound shield, making them even quieter than the previous models we looked at. XO offers Twist Lock and Pro Mount disposals in both batch feed and continuous feed setups with this level of power.
The XOD34HP continuous feed model is priced at $179 and features a 10-year in-home warranty.
Dimensions:
Height: 15.75"

Width: 7.625"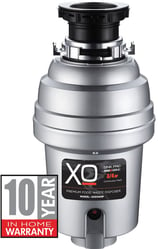 The XOD34HPBF batch feed model is priced at $199 and also features a 10-year in-home warranty.
Dimensions:
Height: 18.06"

Width: 7.625"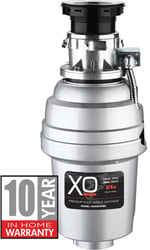 The Pro 3-bolt mount version is the XOD34PRO, retailing at $199. There's also a Pro Mount batch feed model, the XOD34PROBF, retailing at $239.
Dimensions (XOD34PRO):
Height: 14.06"

Width: 8.125"
Dimensions (XOD34PROBF):
Height: 16.25"

Width: 8.125"
The XOD1 1 HP Models
The last type of disposals we'll look at in these garbage disposal reviews are the 1HP models by XO. Like the previous size, there is one of each model in continuous feed and batch feed available. This power is suited to large families and those who do a lot of cooking. At this strength, the garbage disposal can grind chicken bones, fruit rinds, and other tough food waste. They are highly resistant to jamming and feature the same premium sound shield as the last units we looked at. However, these models do take up a significant amount of space underneath the sink and not all consumers have room for them in their lower cabinets.
The XOD1HP TwistLock continuous feed model retails for $219 and features a lifetime in-home warranty. The XOD1HPBF batch feed model retails for $249 and also features a lifetime in-home warranty.
Dimensions (XOD1HP):
Height: 15.75"

Width: 7.625"
Dimensions (XOD1HPBF):
Height: 18.06"

Width: 7.625"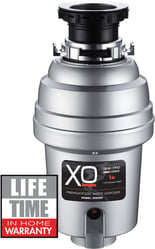 The Pro Mount models include the continuous feed XOD1PRO, retailing at $239, and the batch feed model XOD1PROBF, retailing at $269.
Dimensions (XOD1PRO):
Height: 14.06"

Width: 8.125"
Dimensions (XOD1PROBF):
Height: 16.25"

Width: 8.06"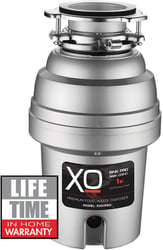 CLICK HERE TO SHOP ALL XO GARBAGE DISPOSALS
While there are many quality brands that we could write garbage disposal reviews for, we chose XO for this article due to their awesome features and warranties. Other brands like Insinkerator and WasteKing are currently more popular, but with XO's fair price point and high-quality components, that may change! For more options, check out our best garbage disposal reviews!
We hope these reviews proved helpful in uncovering the best garbage disposal for your specific needs. Please leave us a comment below. We'd love to hear from you!
Editor's Note: This blog was originally written in April of 2018 and has been completely revamped and updated for accuracy as of the publication date noted above.