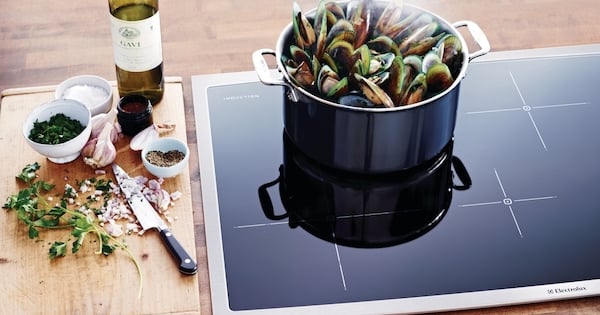 Electrolux may not be as familiar a brand to some as, for example, Whirlpool or KitchenAid, but this Swedish company has made their mark in the appliance market as the second-largest appliance maker in the world (based on units sold). They created the first true household vacuum cleaner in 1912 and have been making innovative, reliable products ever since. They have owned well-known brand Frigidaire since 1986.
Induction cooking is a unique trend, and induction ranges and cooktops aren't always easy to find. In this article we'll go over the Electrolux induction range and the two Electrolux induction cooktop models available to help you explore your options. As of this writing, Electrolux offers two induction cooktops (a 30" and 36" model) and a 30" built-in style induction range.
1. The Range: Electrolux EW30IS80RS 30" Slide-In Range - $3,699
Electrolux model EW30IS80RS is currently the only Electrolux induction range model available. This slide-in range comes in stainless steel only at $3,699 and has a smooth top (no backguard) so installation in a kitchen island will look amazing. It includes premium features like 2,500W dual fan true convection, luxury ramp-up blue halogen lighting, and Wave-Touch Controls to reveal the control panel.
This Electrolux induction range has so many features that it's hard to cover them all! The oven is just as much of a star as the cooktop at 4.6 cubic feet, plus the extra capacity of an oven drawer for baking and warming. The Perfect Taste temperature probe helps you cook roasts and other dishes to the perfect internal temperature, and triggers the oven to switch over to a Keep Warm setting once that temperature has been reached. Seven professionally-inspired cooking modes, Rapid Preheat, and automatic convection conversion will help you turn out perfect results every time you cook!
For the cooktop itself, the elements include a 8" 2,300W/3,200W, one 7" 1,800W/2,000W, a 10" 2,500W/3,800W, and a 6" 1,200W/1,400W. The control panel lays flat on the surface of the cooktop for a seamless look.
This range is perfect for achieving the built-in look and is a gorgeous high-end choice for your kitchen! But Electrolux also has two induction cooktops to offer if you already have the wall oven of your dreams. We'll review them below!
Click here to read over 60 real customer reviews of this product!
Electrolux Model EW30IS80RS - $3,699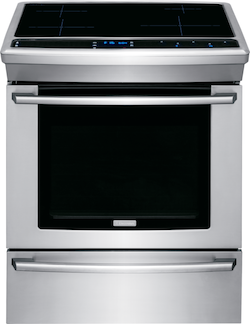 2. The 30" Cooktop: Electrolux EW30IC60LS with 4 Elements - $1,999
The 30" Electrolux induction cooktop model EW30IC60LS starts at $1,999 with a glossy black glass surface trimmed in stainless steel. This four-element model also features Wave-Touch controls with a smooth glass-top surface. It includes features like a Keep Warm setting and Power Assist function to speed up the cooking process.
The Perfect Set controls allow you to set up to 25 go-to touch settings so you can jump right into cooking your favorite dishes! The cooktop elements include a 6" 1,450W/2,000W, an 8" 2,300W/3,200W, a 10" 2,600W/3,900W, and a 7" 1,900W/2,600W.
Although this cooktop is extra-safe because the surface stays cooler, you also have access to a Control Lockout feature to avoid unwanted use of the cooktop. This 30" Electrolux induction cooktop can be installed on top of a single wall oven or in an island on its own for your custom built-in look.
Click here to read over 30 real customer reviews of this product!


Electrolux Model EW30IC60LS - $1,999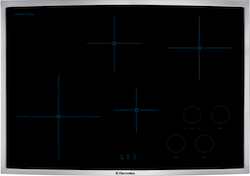 3. The 36" Cooktop: Electrolux EW36IC60LS with 5 Elements - $2,199
If you're looking for a larger option, the 36" Electrolux induction cooktop model EW36IC60LS might be for you. Coming in at $2,199, this cooktop has two main upgrades compared to the 30" model: an additional 8" 2300/3200W center element and a dual 7"/11" 3700/4800W element replacing the 10" element on the smaller model. That dual element offers more power than the elements available on the previous cooktop and a slightly larger radius, ideal for extra-large pots and pans.
Electrolux Model EW36IC60LS - $2,199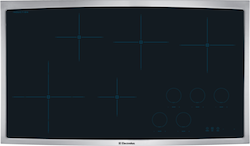 One side benefit of induction cooking besides the efficiency and safety of heating only the cookware, is that any spills or drips will be easier to clean, since there's no heat to harden them and make them difficult to scrub off!
That sums up the induction options from Electrolux. All of these models are ADA compliant and come with Electrolux's Platinum Star Limited Warranty, which includes three years of coverage on parts and one year on labor. If you want to save money on your Electrolux induction range or cooktop, keep an eye on Electrolux appliance rebates and consider appliance packages as well for extra savings!
Have you tried induction cooking before? Is induction cooking the wave of the future? Leave us a comment below - We'd love to hear from you!
Editor's Note: This blog was originally written in December of 2018 and has been completely revamped and updated for accuracy as of the publication date noted above.