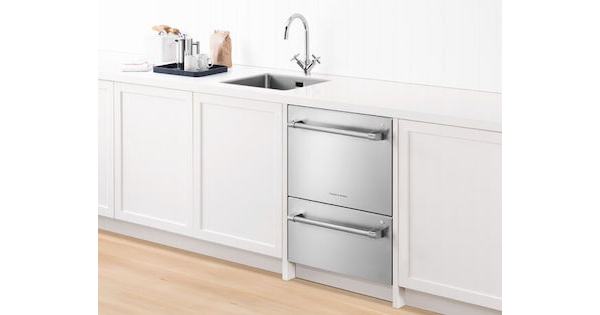 NOTE: This post is no longer being updated as of September 2021, as we no longer sell this brand. If you have questions about these products, we recommend reaching out to a local store that sells Fisher & Paykel, or to contact the manufacturer directly - click here for their contact info.
Dish Drawer dishwashers are a unique concept that offer versatility and performance that you can't get with traditional dishwashers. They offer installation and operational options that you probably have not considered. In our Fisher & Paykel dishwasher reviews, we'll discuss the features, packages and pricing of their eye-catching drawer dishwashers (for more info on choosing a new dishwasher, check out our dishwasher buying guide).
These unique products were developed by New Zealand-based company Fisher & Paykel in the 1990s and brought to market in the United States in the early 2000s. Other manufacturers tried to offer the product but were not successful and now Fisher & Paykel is the only manufacturer of this unique dishwasher type.
An Introduction to the Drawer Dishwasher
Fisher & Paykel offers two types of drawer dishwashers: single and double drawers. They updated their dish drawer product lineup for 2018, redesigning the control panels for a more intuitive experience as well as improving the look and feel of their drawer dishwashers. This is Fisher & Paykel's best-selling product!
A double drawer dishwasher can be installed in the same opening as a traditional dishwasher, but will give you two separately operated dishwashers in that same space. This allows you to do small loads very efficiently, allowing you to operate one dish drawer while you load the other and operate each of the drawers on different cycles. For example, you could have one drawer on the gentle cycle and one on the normal cycle at the same time.
Single drawer dishwashers are available for smaller kitchens and bars and can also be installed side by side above your cabinets under the countertop to require less bending while loading and unloading.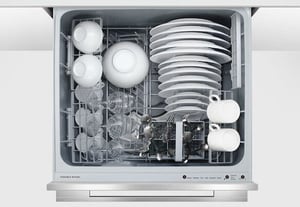 All of the drawer dishwasher models include the following features:
Flexible racking with fold-down tines

Flow-through detergent dispenser

SmartDrive Technology

Plastic interior tubs molded for improved cleaning power and quieter operation

Fan-assisted high performance drying

Individual drawers fit seven place settings

Quiet operation at 44-45 dBA depending on the model

Manufacturer's warranty covers 2 to 3 years parts and labor depending on the model
There are a few different feature packages for single and double drawer styles, including:
"Tall" models that offer slightly more interior height for taller dishes plus extra cycle modifiers

Tall tub models with water softeners

Integrated panel ready models for a truly flush installation with your cabinetry

Models with pocket handles, bar handles, or straight handles
Why does Fisher & Paykel use a plastic tub for these otherwise high-end products? Although dishwashers with stainless steel interiors are considered superior to plastic, due to the dishwasher drawer's smaller size, Fisher & Paykel wanted to create an interior tub design that optimized the way water would be reflected off the sides to optimize the cleaning performance. Currently a custom-molded plastic is the only way to do this!
Is a Drawer Dishwasher Right for You?
You may like a drawer dishwasher if...
You have a condo or galley kitchen that doesn't have the space to fully open the door of a standard dishwasher

You have a small household and are willing to hand wash large dishes and cookware

You have back or knee problems and would like to avoid bending over or crouching to access your dishwasher

You're looking for interesting premium appliances for your kitchen

You want to be able to run two half loads on different cycles (for example, one drawer on the Normal cycle and one drawer on the Delicates cycle)
The drawbacks include...
Spotty repair record in the past - although overfilling may be a contributor to this problem, and today's models are more reliable

Similar energy usage to a full-size dishwasher (so no efficiency gains despite the smaller capacity)

As expensive as many mid-end and high-end full-size dishwasher models

Limited capacity - although a Double DishDrawer offers similar capacity to a full-size dishwasher, the drawers' interior heights limit what items can fit inside
The Double Drawer Dishwasher vs Single Drawer
The double drawer dishwasher is designed to hold 14 place settings with seven per drawer, which is about the same as most traditional dishwashers. They use less water than traditional dishwashers, and many of the models are Energy Star rated. They hold dishes up to 12.25 inches high in most models, but they do have some models that have a taller top drawer to accommodate larger items up to 13 inches. The racks have fold-down tines to accommodate larger items and features to accommodate cutlery and flatware.
Traditional dishwashers are more open and can more easily accommodate larger bowls, cups, and plates; so it will be a bit of an adjustment to get used to loading the drawer when it comes to these items. Some users have also noted that they use the bottom drawer less often or ignore it since it is a little less convenient to access.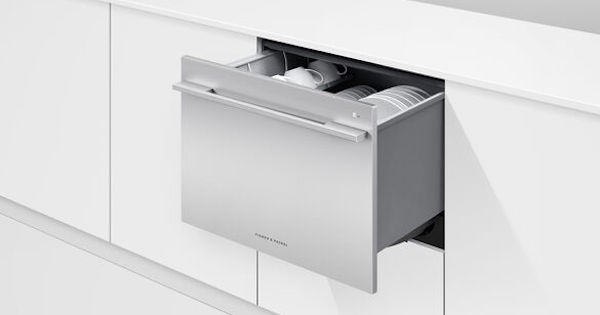 All of the drawer dishwashers are designed to install flush with your cabinetry, giving a high-end look to your kitchen. They should not interfere with the opening of doors and drawers in your kitchen. A double drawer dishwasher will take up less room when either drawer is opened than a traditional dishwasher, giving you much needed space if installed between an island and the kitchen cabinets or in other tight spaces.
Single dish drawers are perfect for small apartments, bars, offices and other areas where the larger capacity of a double drawer dishwasher is not necessary. As we mentioned earlier, these models can be installed side by side at the same height, totally eliminating the need to bend over to access the dishes. They offer similar capacity to countertop portable dishwashers but with a lot more high-end appeal!
Dimensions & Styles
The Double Dish Drawer is 23.56" wide by 22.56" deep (excluding handles) and adjusts from 32.31" to 34.62" tall. The Tall models have the same width and depth, but the height adjusts from 34" to 36.37".
The Single Dish Drawer is 23.56" wide by 22.56" deep (excluding handles) and 16.2" tall. The Tall models are 17.87" tall.
Besides Tall and regular-height Dish Drawers, Fisher & Paykel also offers the following styles and colors:
The professionally styled Dish Drawer with a bar handle and hidden top controls - EZKleen stainless steel only. Pictured below: Model DD24DV2T9N, Tall Double DishDrawer priced starting at $1,599.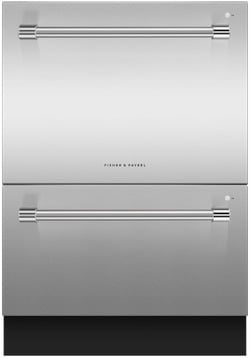 The straight handle design matching Fisher & Paykel refrigerators - stainless steel only. Pictured below: Model DD24SDFTX9N, Tall Single DishDrawer priced starting at $949.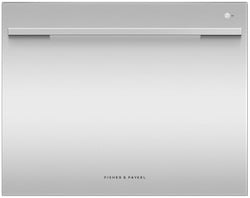 The original contemporary style with a recessed pocket handle and front controls - black, white, and stainless steel. The 2018 updated models come with a stainless steel detailing on the handle for a premium look. Pictured below: Model DD24DCTX9N in stainless steel, Tall Double DishDrawer priced starting at $1,449.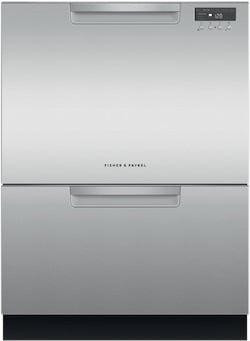 The panel-ready integrated style designed to sit almost perfectly flush with your cabinetry with hidden top controls. Pictured below: Model DD24DI9N, Double DishDrawer priced starting at $1,229.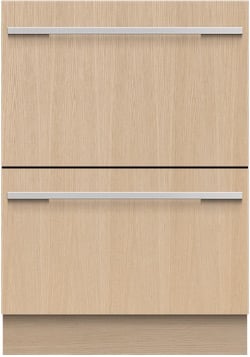 Wash Programs & Options
Obviously, these drawer dishwashers look amazing... but can they really clean your dishes? In this final chapter of our Fisher & Paykel dishwasher reviews, we'll quickly go over the available cycles and options, which vary between models. Each model comes with a rinse aid reservoir which helps improve the drying process.
The Tall models come with a few additional cycles and options than the regular-height models. Additionally, the line of Tall models with a water softener built-in can dispense salt into your water so the pH is optimized for washing your dishes.
Single/Double DishDrawer:
6 Wash Programs: Delicate, Fast, Heavy, Medium, Normal Eco, Rinse

Delay Start

Child Lock on single DishDrawers only

Fit plates up to 11" tall

Foldable cupracks and tines
Tall Single/Double DishDrawer:
6 Wash Programs: Delicate, Fast, Heavy, Medium, Normal Eco, Rinse

3 Wash Modifiers: Quick (speed up wash time), Sanitize, Extra Dry

Child Lock and Delay Start

Fit plates up to 12.25" tall (top drawer of Double DishDrawers)

Foldable cupracks are also height-adjustable, foldable tines are pitch-adjustable

Include knife clip and multipurpose clip
Panel-ready models also now come with a "knock to pause" feature - just knock on the front panel and the cycle will pause. Just press the Start button to resume the cycle.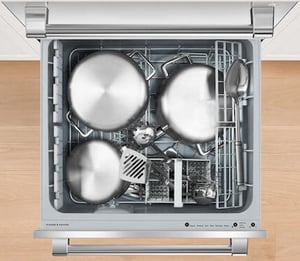 In Conclusion...
The Fisher & Paykel dish drawer is designed to fit with any appliance package. The pocket handle models eliminate the concern of matching hardware with other brands of appliances. If you like another manufacturer's appliances but want to install a dish drawer, you can do it and it will still look great! You can also purchase an entire suite of Fisher & Paykel appliances with matching handles. Fisher & Paykel offers a complete line of high-quality appliances, including kitchen and laundry products.
Drawer dishwashers are more expensive than traditional dishwashers. If you need a dishwasher that conserves space but a drawer dishwasher would put a strain on your budget, you may want to consider an 18 inch dishwasher or a portable dishwasher (click the links to read reviews and helpful info about these products).
We hope our Fisher & Paykel dishwasher review was helpful! What do you think of the upgraded 2018 drawer dishwashers? What factors make a drawer dishwasher appealing to you over other options? Leave us a comment below - We'd love to hear from you!
Editor's Note: This blog was originally published in February of 2016 and has been completely revamped and updated for accuracy as of the publication date noted above.