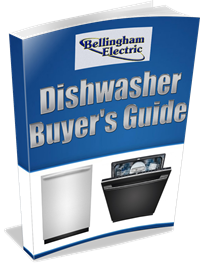 Shopping for a dishwasher can be fun if you know what you need to look for and have a plan in place before you head to the store. However, if you are unprepared, the process can be a bit overwhelming. There are many things to consider about your next dishwasher. This applies whether you are replacing an existing model or buying one for the first time as part of moving into a new home. We've tried to simplify the process for you and lay out an easy list of things you need to consider that will make the whole process one that is more enjoyable. We want to help you make the best purchase so you can love your new dishwasher for many years to come. Read on for a preview of the FREE Guide and your opportunity to download it quickly and easily.
You'll be able to read our dishwasher buying guide in about 10 to 15 minutes and in that short time you'll become an expert in the following:
The range of available decibel (dB) ratings and how to judge if models will be "quiet".
The differences in materials used in the internal and external construction of different models.
Information about product sizes and installations.
How to compare cycles and other features when shopping.
Where to find further information about any aspect of your purchase.
(Click the Red Button below to Download the FREE Guide)
Thanks for taking the time to read this blog post. We hope you enjoy the guide.
CLICK HERE TO SHOP DISHWASHERS BY BRAND AND PRICE
If you have further questions, please feel free to visit our website at www.bellinghamelectric.com or contact our knowledgeable sales staff or visit our showroom where you'll find a wide variety of dishwashers on display.